There's a superb streak of UFC events drawing ever closer, as the UFC 200 fight week featuring the Ultimate Fighter 23 finals and the UFC Fight Night 90 card is just over a week away. Following that crazy three day run of mixed martial arts action, we've got UFC 201 to look forward to, and arguably the most exciting welterweight champion of all time will return on that card. Robbie Lawler takes on Tyron Woodley in the evening's main event, topping off a stacked event from Atlanta, Georgia.
'Ruthless' is on a five fight streak and has been involved in two consecutive fights that could easily be called the greatest 170-pound title contests ever. A thrilling fight of the year against Rory MacDonald at UFC 189 was followed by a five round was against Carlos Condit at UFC 195, both fights are widely regarded as the most entertaining in the division's history. But at UFC 201 Lawler faces a very different kind of fighter.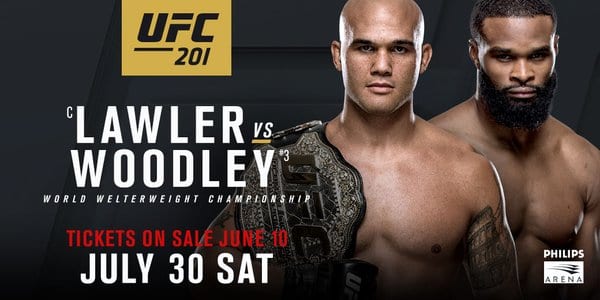 Unlike MacDonald and Condit, 'The Chosen One' has explosive one punch power, but also not akin to those two, Woodley has never seen a fifth round. Although he's come under some criticism for not being conservative enough with his energy in the past, 'T-Wood' has certainly shown he can get the job done early on in the fight. Speaking recently with FOX Sports, the next contender to the welterweight strap says he has many ways to win the fight:
"Even after I signed the bout agreement, it just didn't seem real because you know how our sport is — crazy things happen," he continued. But then when I got to training camp and I started watching film, I started breaking him down, it just got real, man."
"I can take it to the ground and grapple, I can wrestle, I can obviously strike with creative strikes and get there really quickly, but in addition to that, I just feel I can brawl and bang as well so there's multiple different ways I feel comfortable winning the fight."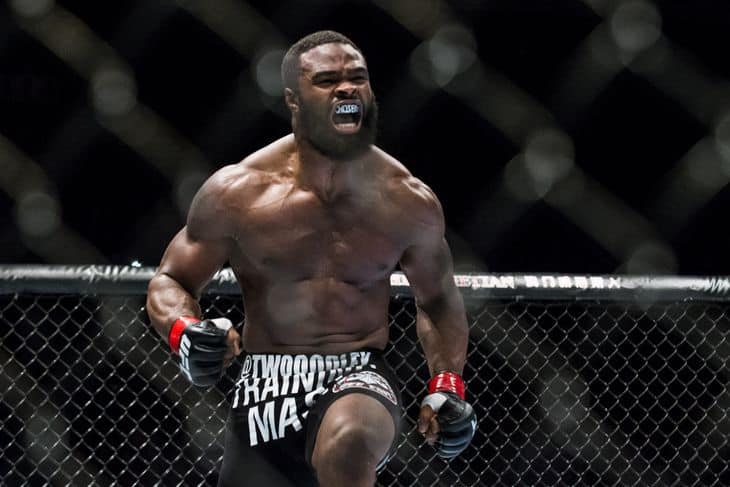 Although it's become a trademark of sorts for Lawler to become embroiled in gruelling battles of attrition, Woodley says he is not averse to testing his mettle in that respect at UFC 201:
"I feel that Robbie has one way to be successful — get me to stand in front of him and go with a 'who got the bigger balls contest?,' "
"And even in that situation, I've got a pretty good chance of knocking him out." 
A first round TKO over Dong Hyun Kim in 2014 was followed by a narrow split decision against Kelvin Gastelum in early 2015. Woodley has been out for nearly 18 months now and has averaged one fight per year since his unanimous decision loss to 'Red King' at UFC 174. Perhaps a contest of testicular fortitude against a war torn veteran like Lawler is not the wisest idea?