Tyron Woodley: Georges St-Pierre Should Have To Fight Me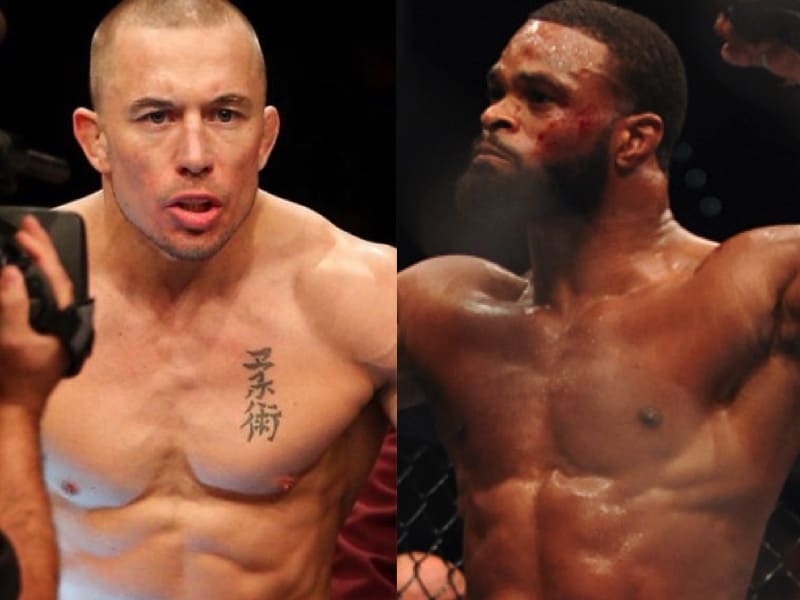 He may have put on arguably the two most boring title fights in UFC welterweight title history with a record-setting snoozer over Demian Maia in the UFC 214 and a painfully slow defense against Stephen Thompson at UFC 209, but Tyron Woodley still believes his body of work has earned him a lofty position in MMA history.
Woodley was thoroughly blasted by his boss Dana White after he successfully defended all 21 of Maia's takedown attempts in a bout that set the record for least significant strikes in a title bout, so much so that the emotional exec actually took Woodley's promised title bout with returning all-time great Georges St-Pierre off the table, giving the fight to Michael Bisping.
"The Chosen One" understandably wasn't happy about it, and spoke out against White's decision at the UFC post-fight press conference (via MMA Fighting) by declaring St-Pierre should actually have to fight him to be considered the best welterweight ever:
"[St-Pierre] should have to fight me. If you are the best welterweight of all time, you're gonna come back into the sport and go up a weight class? I guarantee you if Demian Maia would have won, he would have been talking about fighting Demian Maia. I guarantee if Stephen Thompson would have won, he'd have been looking to fight Stephen Thompson. He doesn't want to fight me because I'm a better version of him."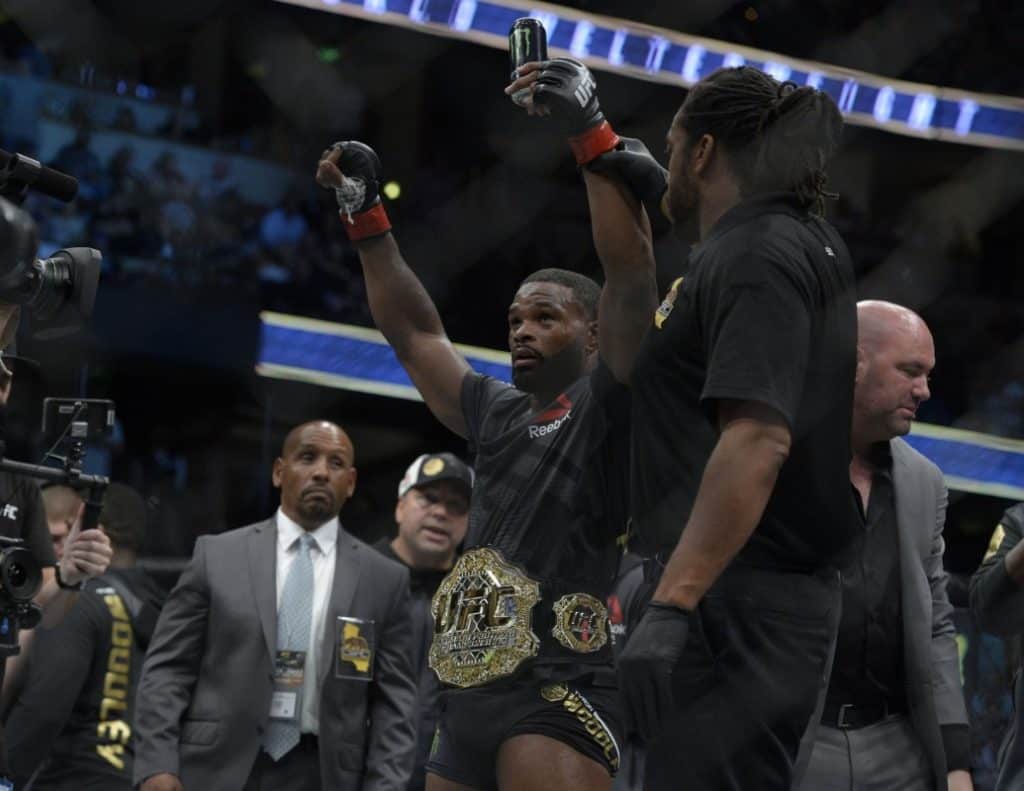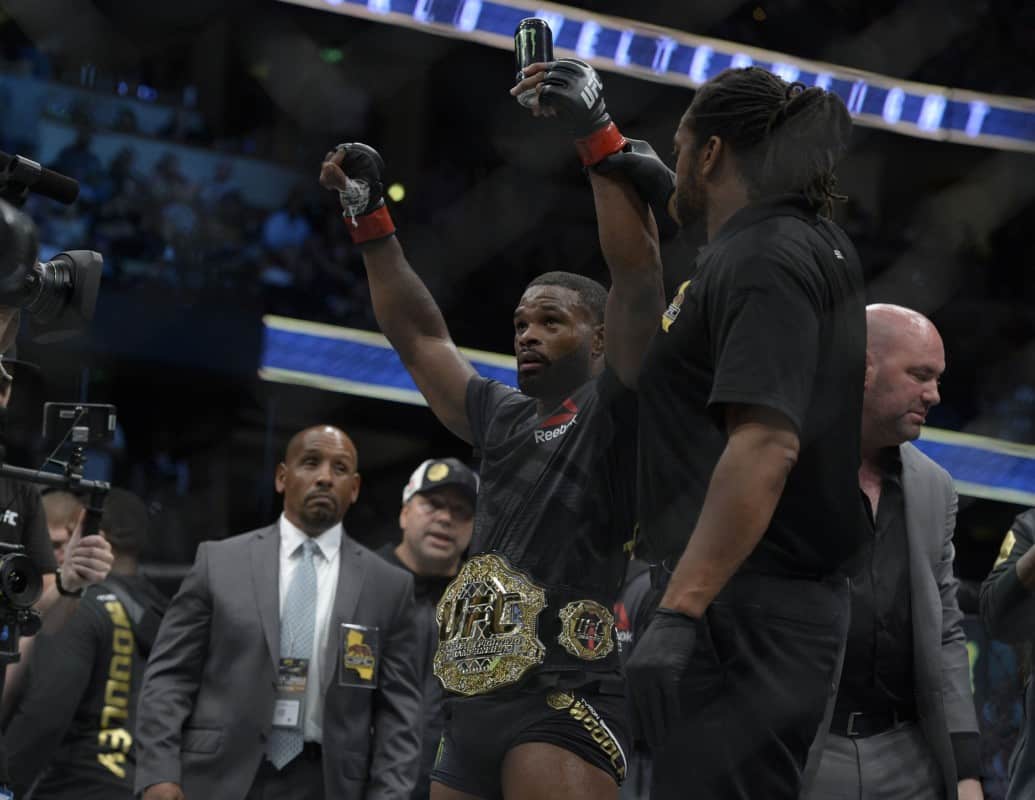 St-Pierre will move up a weight class to middleweight to fight champion Bisping, who has caused a sea of controversy since winning the belt by only defending it against a retiring Dan Henderson before going to the sidelines with knee surgery as the many top contenders in the division were methodically eliminated by Robert Whittaker, who conveniently hurt his own knee beating Yoel Romero. That's made the 185-pound division a mess, and Woodley took note of it before correctly pointing out he was the only champion consistently defending the title against top contenders:
"When was the last time Michael Bisping fought? Think about it. I fought four world title fights against actual No. 1 contenders. Has he ever fought a No. 1 contender? I fought the No. 1 contender twice. I fought the No. 1 contender after that. And I fought the world champion who was Robbie Lawler at the time before that. I'm the only one that's going by the old set of rules. So if it's not Georges St-Pierre, let him run. But guess what? Whoever you put in front of me, I'm gonna run through them, I'm gonna beat them, and if he does not fight me, by default I will be the best welterweight of all-time."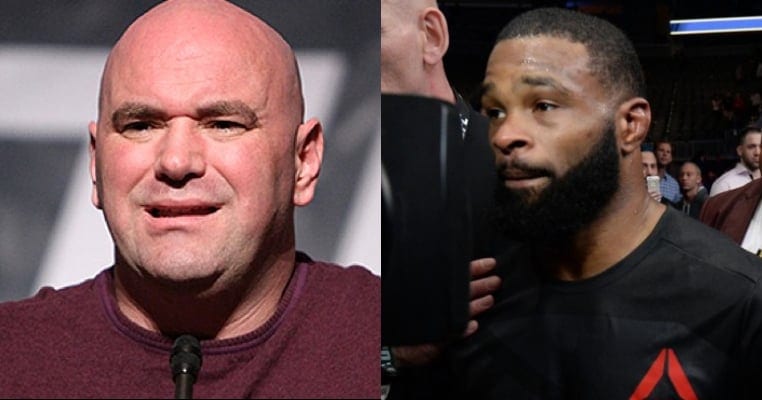 Woodley may have a strong argument from some certain points of view, yet it's difficult to say he would become the greatest fighter of all-time in a storied division, especially over a time-honored legend like St-Pierre, without actually fighting him if he's indeed active. However, it's just not a fight that is going to be made until Woodley proves he can deliver exciting bouts each and every time out to the cage, not every third or fourth time.
That's the only way he's going to gain a reputation as a draw, and that, in turn, is the only way he might eventually get to fight St-Pierre.
But one thing Woodley is correct about is the mess the middleweight division has become. The welterweight champ went off about Bisping's injury and why it was strange to have St-Pierre jump the entire ranks in a class he had never once competed in before:
"The clarity should just be Georges. I don't understand, you have an interim title right? Robert Whittaker just beat Yoel Romero. . . He deserves to fight Bisping next. How long is Bisping going to milk this knee injury? Is his knee severed or what the hell is going on? He should be fighting the No. 1 contenders like I've had to do."