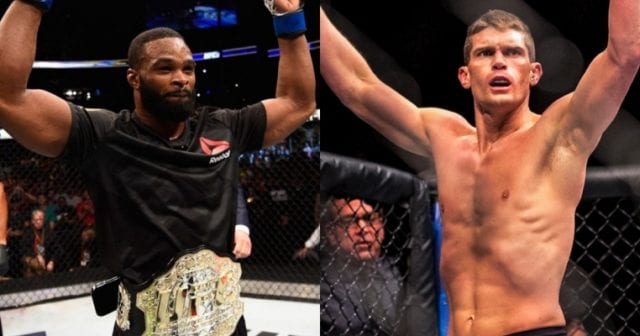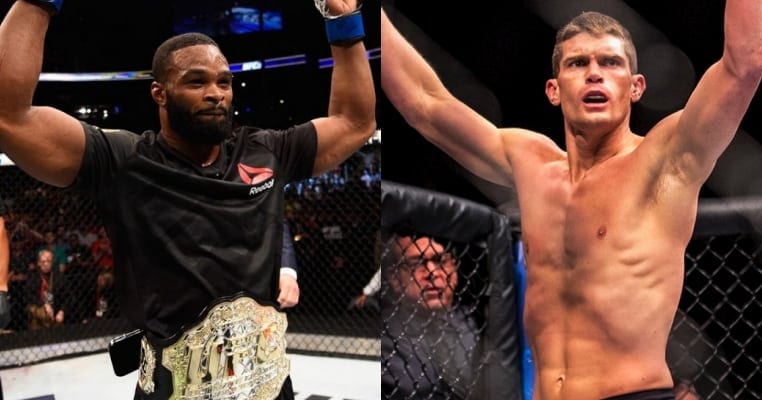 Shortly after making the announcement that he will be defending his welterweight throne against Stephen 'Wonderboy' Thompson at UFC 205 from Madison Square Garden in New York this November, UFC 170-pound champ Tyron 'The Chosen One' Woodley recently joined the Anik and Florian podcast (courtesy of FOX Sports) to discuss his upcoming clash with the No. 2-ranked Thompson.
Woodley said that he is motivated for his contest with the undefeated kick-boxer because while he does respect him as a competitor, he doesn't respect 'Wonderboy' as a man:
"The thing that motivates me about this fight is 'Wonderboy' I respect him as an opponent, but I really don't respect him as a man. He knows that we committed to this fight almost six weeks ago and for him to charade around like I'm scared to fight him, retweeting and liking all these posts."
"For someone to desperately need to that affirmation from the fans and for people to like him, like I can't respect that," Woodley said.
'The Chosen One' also stated that he isn't buying into Thompson's 'fake humble' that has gotten underneath the new champion's skin, and come fight night he'll use that as motivation to put 'Wonderboy's' lights out quick:
"For me, I'm going to try to do the same thing to you no matter if I like you, no matter if I hate you, no matter if it pops up. You're not going to be able to say one thing and now I really want to kick you," Woodley said. "For some reason, he's managed to get underneath my skin and I just don't buy that fake humble, I just don't buy it.
"When someone's portraying something they're not to get underneath my skin, I'm just going to funnel that into a great strategy and I'm going to try to get him out of there quick."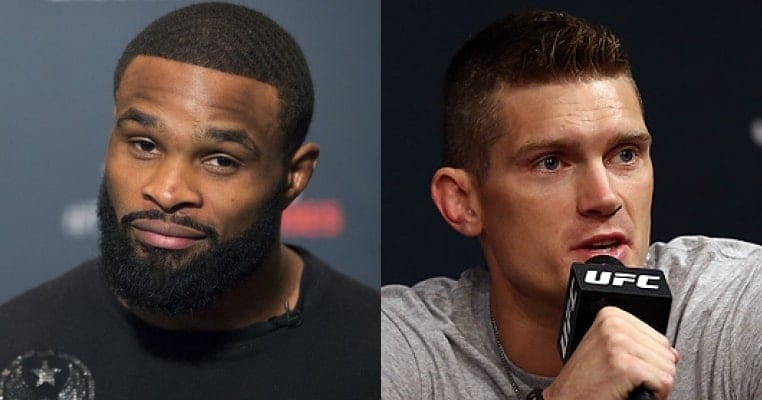 Before the fight with Thompson was announced, Woodley was adamant on wanting a big 'money fight' with 170-pound legends such as Georges St-Pierre or Nick Diaz.
Woodley believes fans took his words the wrong way and re-phrased his statement:
"People misunderstood what I said when I said I wanted a money fight. Maybe I should re-phrase that because when people hear that it almost sounds like I don't care about the sport anymore. When you're watching people in non-title fights making four times the amount of money that a champion makes, it takes away the flavor of being a champion," Woodley said. "Me getting a money fight, me getting paid the way I feel a champion should be paid. So when I fight Stephen 'Wonderboy' (Thompson), this will be a money fight.
"Unlike some of the other guys in the different divisions, my fight that I asked for made sense. Not only would they be money fights, but they also would be legacy fights. You can't deny that Nick Diaz is a top 10 overall welterweight Hall of Famer. Same thing with Georges St-Pierre, he's No. 1 overall right now."
Woodley and Thompson will meet for the welterweight title live at UFC 205 on pay-per-view (PPV), from the Madison Square Garden arena in New York City on November 12, 2016.