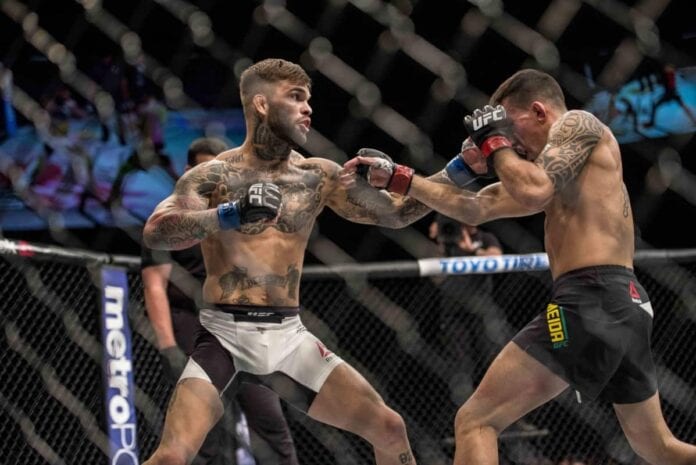 The mixed martial arts world was treated to an excellent night of scraps tonight (May 29, 2016), as UFC Fight Night 88 popped off from the Mandalay Bay Events Center in Las Vegas, Nevada. The evening was highlighted by the explosive brawl between Brazilian Thomas Almeida and Cody "No Love" Garbrandt.
The fans got exactly what they came to see, as the two undefeated bantamweight prospects turned in the slugfest we were all hoping for. It just didn't last very long. The Team Alpha Male export proved too much for Almeida, shutting off the lights with a right hand to the jaw in the very first round.
The co-main event also saw a tense standup battle, as former bantamweight champion Renan Barao made his long-awaited move up the scale to 145 pounds. There to greet him was longtime slugger Jeremy Stephens.
The greeting turned out to be a rude one. "Lil Heathen" rocked Barao several times during their back-and-forth clash, earning a unanimous nod from the judges and putting the rest of the featherweight division on notice in the process.
See how the MMA Twittersphere reacted to these two excellent bouts:
Good thing we probably don't need those three stooges tonight. Now that I say that we're gonna get a wacky decision.

— Greg Savage (@TheSavageTruth) May 30, 2016
Looking forward to this fight. Keeping a close eye on this one.. @ufc #UFCVegas

— Michael McDonald (@MaydayMcDonald) May 30, 2016
It's Termineida time. #UFCVegas pic.twitter.com/yWrvjjGvJb

— MiddleEasy (@MiddleEasy) May 30, 2016
WAR @Cody_Nolove #teamalphamalevseverybody

— Andre Fili (@TouchyFili) May 30, 2016
People who have seen Almeida fight before are just sitting here totally unaffected by his getting hit.

— Suzanne Davis (@SoozieCuzie) May 30, 2016
Hang on… Garbrandt has a gun in the back of his shorts. I'm no expert on the unified rules but…

— Dan Hardy (@danhardymma) May 30, 2016
Cody Garbrandt GOT HIM. Down goes Thomas Almeida in the first!#UFCVegas https://t.co/Qiu0RnA8px

— FOX Sports: UFC (@UFCONFOX) May 30, 2016
Smoked him .. That loud ! #UFCVegas

— Derek Brunson (@DerekBrunson) May 30, 2016
What a performance by Garbrandt!!! The Almeida Hype Train is off the rails in a flaming heap. That was a one-sided beating. #UFCVegas

— Greg Savage (@TheSavageTruth) May 30, 2016
Wow! Amazing work from @Cody_Nolove Just incredible!!!! Well done brother.

— michael (@bisping) May 30, 2016
And the streak….is over. #UFCVegas pic.twitter.com/7410XyikpP

— Tommy Toe Hold (@TommyToeHold) May 30, 2016
????????????????????DAAAAMNNNNN!!!!

— Lauren Murphy (@LaurenMurphyMMA) May 30, 2016
DAMN….. @Cody_Nolove is an animal. #ufcfightnight

— Will Brooks (@illwillbrooks86) May 30, 2016
Hooooly shit. Garbrandt straight-up murdered Almeida. Great work, especially in the pocket, kept his eyes open and countered. #UFCVegas

— Patrick Wyman (@Patrick_Wyman) May 30, 2016
For the record, Garbrandt said on Monday's #themmahour (and other places), he would KO Almeida in the first. Way to back it up, No Love.

— Ariel Helwani (@arielhelwani) May 30, 2016
Man I killed the bookies tonight! Give me my money! #Vickspicks

— James Vick (@JamesVickMMA) May 30, 2016
My dog. Love you brotha. ????????????#OutcastsAndUnderdogs pic.twitter.com/Fqb7qWtmNk

— Andre Fili (@TouchyFili) May 30, 2016
If you're gonna try to merc Thomas Almeida, that's how you do it. Smart stuff by Garbrandt to force the issue immediately. Beauty right hook

— Jordan Breen (@jordanbreen) May 30, 2016
I mean, sure. Why shouldn't it be @Cody_Nolove https://t.co/OgHmgUmtrR

— Andreas Hale (@AndreasHale) May 30, 2016
Someone's O HAD 2 go…but it's wasn't "No Love's." ???? Congrats @Cody_Nolove – 1st Rd. KO over an undefeated opponent! #StillUndefeated @ufc

— Ashlee Evans-Smith (@AshleeMMA) May 30, 2016
Im down to fight either one of these guy. I would love to fight one of em. Who do y'all think I should fight next?

— John Dodson III (@JohnDodsonMMA) May 30, 2016
Calls out Cruz, media, and does it for America. Solid post-fight interview for Garbrandt. #UFCVegas

— Tommy Toe Hold (@TommyToeHold) May 30, 2016
Fuck yeah @Cody_Nolove

— Matt Brown (@IamTheImmortal) May 30, 2016
For real. Garbrandt has faster hands than DJ and that's no exaggeration. He's probably the fastest puncher in MMA. https://t.co/Tlah0PnY9b

— The Naked Gambler (@NakedGambling) May 30, 2016
Barao thinking about that push during weigh-ins backstage like #UFCVegas pic.twitter.com/PLUv1PaX1U

— Tommy Toe Hold (@TommyToeHold) May 30, 2016
WAR JEREMY STEPHENS!!!! #UFCVegas

— Angela Hill (@AngieOverkill) May 30, 2016
Baracula wins the first. Looks small in there for 145lbs., but way faster than Stephens. #UFCVegas

— The Spartan (@EliasTheodorou) May 30, 2016
Stephens throws heat! #UFCVegas

— Derek Brunson (@DerekBrunson) May 30, 2016
Barão looking like he regrets the last 13 years of his life. #UFCVegas

— Tommy Toe Hold (@TommyToeHold) May 30, 2016
Barao has the worst poker face once he gets hit and hurt. Great chin but when he eats a big strike, he freaks out and goes off the rails bad

— Jordan Breen (@jordanbreen) May 30, 2016
Stephens swings like he has hammers in his hands.

— Dan Hardy (@danhardymma) May 30, 2016
Both men swinging wildly. Whoever lands last wins?

— Bleacher Report MMA (@BR_MMA) May 30, 2016
Barao looks great at 145. I think it was a good career move. Heathen is a monster. Hard to score that one. #UFCVegas

— Aljamain Sterling (@FunkMaster_UFC) May 30, 2016
Big win for @LiLHeathenMMA! Congrats man. Looked great out here

— Michael McDonald (@MaydayMcDonald) May 30, 2016
Weight class isn;t the issue. Barao just isn't that good anymore. Often decline happens suddenly without explanation in this sport

— FrontRowBrian (@FrontRowBrian) May 30, 2016
Barao isn't a broken fighter but he is a defeated fighter tonight. Great fight from both men! Stephens brought it tonight. #UFCVegas

— Kenny Florian (@kennyflorian) May 30, 2016
The card hasn't been finish heavy, but this has been great matchmaking between some really tough fighters.

— caposa (@GrabakaHitman) May 30, 2016