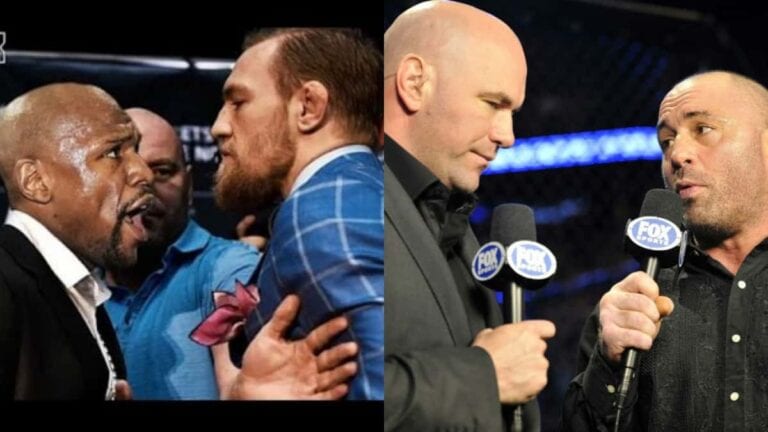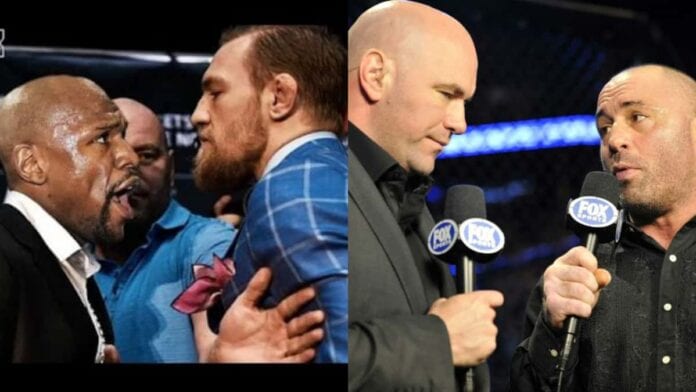 It's been yet another weird news week for fans of mixed martial arts, and once again UFC featherweight champion Conor McGregor is at the centre of it all. His standoff with the UFC got escalated another notch today, as rumors ran wild of a planned 'billion dollar' boxing match against Floyd Mayweather.
The two polarizing pugilists do have a history, with plenty of trash talk going back-and-forth, and the now retired 'Money' Mayweather has gone on record many times claiming he doesn't know who McGregor is. Aside from the obvious fact 'The Notorious' is signed to an iron-clad contract with the UFC, a fight against one of the greatest boxers of this era is unlikely, at best, for a number of reasons.
For starters, for McGregor to step in to the boxing ring would probably take away his biggest advantage, the mixed elements of his martial arts training. That said, a billion dollar fight would probably mean a swift retirement fund for McGregor, so who wouldn't take that fight?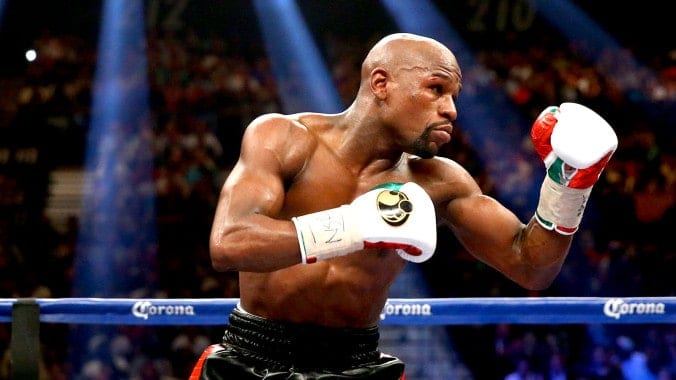 So obviously social media went in to a state of frenzy following the rumors of the fight that was allegedly 'close to agreement.' A number of high-profile names in the sport have given their take on the situation, but there are plenty of hilarious reactions too.
Check out the Twitter reaction to the rumo-rs of Conor McGregor vs. Floyd Mayweather:
Floyd Mayweather, Conor McGregor reportedly negotiating deal for boxing match in Vegashttps://t.co/zFCY9WepAp pic.twitter.com/p76Kq86spE

— Bleacher Report (@BleacherReport) 6 May 2016
Conor McGregor plans on boxing Floyd Mayweather. Having Bill Cosby bartend your wedding is a better Decision.

— MMA Roasted (@MMARoasted) 6 May 2016
Floyd Mayweather will race Usain Bolt in a winner take all $1billion dollar 100 meter dash at the Roman Coliseum in the summer, Im told

— Steve Kim (@steveucnlive) 6 May 2016
The likelihood of Mayweather-McGregor happening is right there with the Kardashians going underground. https://t.co/4ZYn6C6v3P

— Yahoo Canada Sports (@YahooCASports) 6 May 2016
Yesterday: Floyd Mayweather fighting GGG

Today: Floyd Mayweather fighting Conor McGregor

Tomorrow: Floyd Mayweather fighting Tyson Fury

— Laceup Boxing (@Laceupboxing) 6 May 2016
continue the article
Dude….seriously?

Rumours that Floyd Mayweather vs. Conor McGregor is in the works. We cross live to the negotiations: pic.twitter.com/G3r89O6sjW

— Coral (@Coral) 6 May 2016

A. I don't buy it. B. How can Conor McGregor think about boxing Floyd Mayweather when he couldn't outbox Nate Diaz? Doesn't make sense.

— Myron Medcalf (@MedcalfByESPN) 6 May 2016

Dana White refutes report of Conor McGregor- Floyd Mayweather fight https://t.co/MksrqLNvn8

— Chato pra Caralho (@xatopracaralho) 6 May 2016

No, Conor McGregor is not going to box Floyd Mayweather https://t.co/zzcPvOK1lr via @MMAjunkie

— MMA Alley (@MMAAlley) 6 May 2016

@TheNotoriousMMA vs. @NateDiaz209 or @FloydMayweather DOESN'T matter the end result will be the same. #MMA#UFCpic.twitter.com/QK93jq2Uhs

— Laker Mike  (@LakerMike248) 6 May 2016

Just seen a couple of media outlets saying Floyd Mayweather v Golovkin in September.

WOW????????????

— Marky Carter (@marky_carter) 6 May 2016

Absolutely no truth to this McGregor-Mayweather story. I can't believe people are actually falling for this nonsense. … (Cont'd)

— Ariel Helwani (@arielhelwani) 6 May 2016
A) McGregor has a UFC contract. He can't just go fight Mayweather. And b) do you really think he would agree to those pay terms? C'mon now.

— Ariel Helwani (@arielhelwani) 6 May 2016