Anderson Silva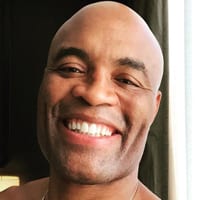 DOB: April 14th, 1975
Birthplace: São Paulo, Brazil
Nickname: The Spider
Gym: Chute Box, Brazilian Top Team, Blackhouse MMA
Style: Muay Thai, Taekwondo
Weight Class: Middleweight, Light Heavyweight
Championships: UFC Middleweight Championship
Silva's early martial arts experience
Anderson Silva came from a poor family in São Paulo, Brazil, but lived with his Aunt in Curitiba early on. Silva first started training Jiu Jitsu with his friends and then later started practicing taekwondo, and capoeira.
He initially made his MMA debut in 1997 winning his first two fights. Then he didn't fight again until 2000, while just losing a pro boxing match in 1998.
Silva would lose his first fight before going on his first long win streak.
Pride and Cage Rage
After taking his first pro loss, Silva would win 6 fights in a row competing in the promotions Shooto and Mecca. This included winning the Shooto middleweight title by decision against MMA vet Mach Sakurai.
The Spider would then make his Pride debut on Pride 21 stopping his opponent by TKO. He would win 2 more fights in a row before losing again. The last win of his 9 fight win streak was a flying knee KO of former UFC champ Carlos Newton.
He would get his win streak snapped losing to Daiju Takase by triangle choke. After taking the loss, he wouldn't fight again in Pride until 4 fights later.
In between then he won 3 fights in a row and the Cage Rage middleweight title against Lee Murray. When he came back to Pride he was submitted with a flying scissor heel hook.
It would be his last fight with Pride and fight 3 more times with Cage Rage defending his belt. Also a DQ loss to Yushin Okami at ROTC in between those defenses.
His last fight before going to the UFC would be an epic reverse elbow KO of Tony Fryklund.
Silva's UFC debut and title win
In 2006, Anderson Silva made his UFC debut against TUF vet Chris Leben. UFC fans weren't aware of how dangerous the spider was. 
He showed vastly superior striking skills knocking out Leben in under a minute of the fight. His performance was so dominant, he immediately received a title shot against Rich Franklin.
In his first title fight, Silva shattered Franklin's nose, knocking him out cold with a knee. Earning his first and only UFC title.
Silva's reign as champion
Anderson Silva would go on to have one of the most dominant reigns as a UFC champion. For almost a decade he defended the title and had numerous highlight reel stoppages.
Winning 16 fights in a row. The only time someone got close in this time was Chael Sonnen, who won every round before getting submitted by triangle.
At 2457 days, Silva still holds the longest title reign of any UFC fighter ever.
Silva's title loss and injury
In his 11th title defense, Chris Weidman would shock the world knocking out the seemingly unbeatable champion.
They would have a rematch at the end of the year and in fight Silva sustained a gruesome injury. Shattering his leg from repeatedly checked kicks.
Silva's later years
After his gruesome injury, Silva did not have much more success in the UFC. He would go 1-5 and 1 NC before he was released by the UFC.