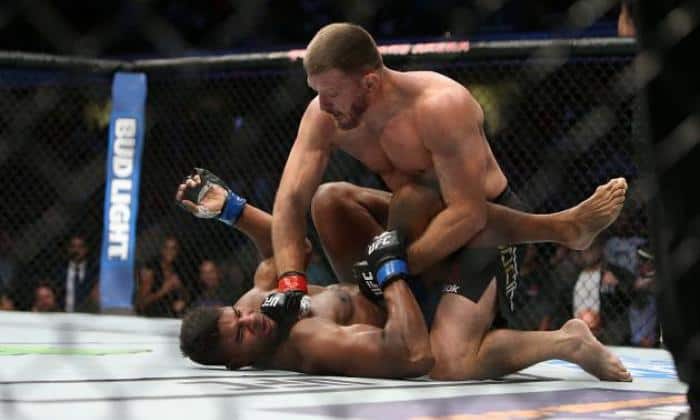 After knocking out Fabricio Werdum to become the undisputed heavyweight champion last May, Stipe Miocic successfully defended his title for the very first time in the main event of UFC 203 this past weekend (September 10, 2016) from his home of Cleveland, Ohio. Despite getting dropped early on, Miocic battled back to score an impressive first round stoppage over longtime veteran Alistair Overeem.
Miocic has a few options for his next title defense, but his name was also recently brought up by former longtime light heavyweight champion and former pound-for-pound king Jon "Bones" Jones, a man who has teased a jump to heavyweight for quite some time.
Despite currently serving out a temporary suspension that could potentially transform into a two-year suspension, "Bones" said that he'd be the 'challenge of a lifetime' for Miocic.
Today (September 13, 2016), Miocic responded to the call out, saying that although Jones is a 'very nice guy', he'd be open to fighting him:
"I'll fight whoever," Miocic told TMZ. "He's a great guy, we've talked before, very nice guy to me. Like I said, I'll fight whoever they want me to fight. If they want me to fight Jon, I'll fight Jon or whoever they want me to fight next — Cain (Velasquez) JDS (Junior dos Santos), (Fabricio) Werdum — I don't care."
At this point in time, however, it seems as if Werdum and Velasquez are the leading men for a title shot. Werdum got back in the win column at UFC 203 as well, scoring a decision victory over Travis Browne. Velasquez's most recent win also came over Browne, as the ex-champion knocked out "Hapa" in the first round of their UFC 200 bout.
Who would you like to see Miocic battle next?