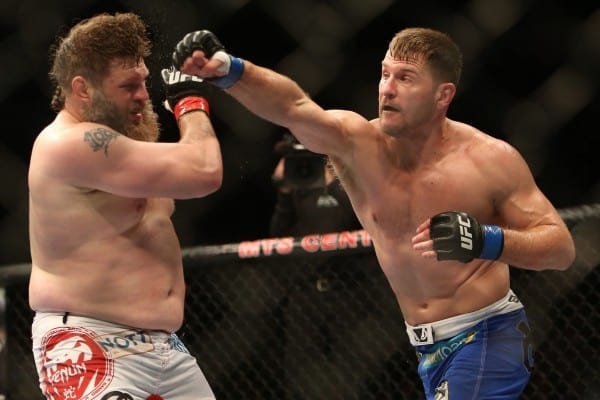 It's no secret that Stipe Miocic (13-2) has been lobbying for a title shot in the Ultimate Fighting Championship (UFC) heavyweight division. Last month, UFC president Dana White said the next title shot will belong to either Miocic or Andrei Arlovski (24-10, 1 NC). Miocic made it clear that he feels more deserving of the opportunity.
With the new heavyweight king, Fabricio Werdum (20-5-1) healing his injuries, it may be a while before we see another 265-pound title bout. If the champion has his way, he will have his first title defense against Arlovski.
Miocic was recently interviewed by Sherdog.com. The number three ranked heavyweight said he doesn't mind being overlooked:
"Wherever it goes, I'm going to win the fight. I don't really care. I think I've made leaps and bounds myself since I started. Everyone always puts me to the side and keeps me under the radar, which is perfect. I've creeped my way up. (They) can keep thinking what they want to think because I shut people up."
While Miocic didn't put much thought into Werdum's title victory at UFC 188, he did give the Brazilian and the former champion Cain Velasquez (13-2) credit:
"I didn't care who it was. He's (Werdum) a super tough guy and Cain (was) an amazing champion, it wasn't his night. It doesn't matter to me. I want to bring home that title and I know I'm going to." 
As far as Werdum being sidelined for up to six months, Miocic isn't too concerned as long as he is the one who's next in line:
"I want to get the call saying I'm going to fight for the title. They could tell me it's two years from now and that's fine. (As long as) I got my shot."
With Arlovski's thrilling win over Travis Browne at UFC 187 and Miocic's thrashing of Mark Hunt at UFC Fight Night 65, the higher ups at the UFC may have a difficult time deciding who gets the next crack at "Vai Cavalo's" championship. If you enjoyed this story, please share it on social media!