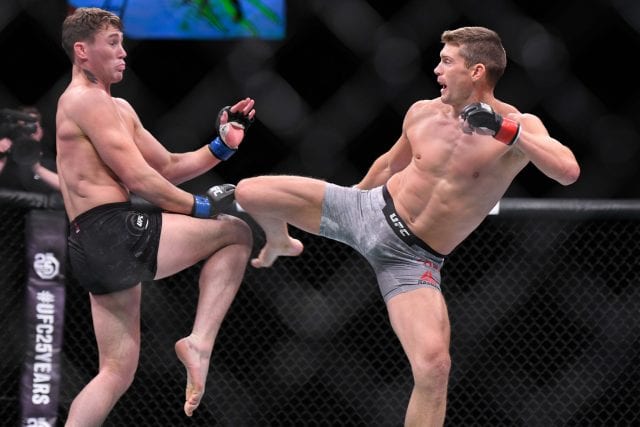 UFC welterweight title contender Stephen Thompson welcomes a potential rematch against fellow contender Darren Till.
Their first fight took place in the main event of the UFC Liverpool event back in May 2018 that aired live on FOX Sports 1 at the Echo Arena in Liverpool, England. Thompson lost via unanimous decision. It was a close fight with a bit of controversy as some thought Thompson had earned the victory.
Despite having a tough week leading up to the fight, including missing weight, Till was able to pick up a notable win over a top name.
Since then, both fighters have gone through some struggles. Thompson lost to former UFC lightweight champion Anthony Pettis in the headliner of UFC on ESPN+ 6 by knockout in the second round.
On the flip side, Till lost by submission to then-UFC welterweight champion Tyron Woodley in the main event of UFC 228. In his latest fight, he suffered a knockout loss to Jorge Masvidal at UFC Fight Night 147 in London.
Stephen Thompson Welcomes Rematch
While doing a recent interview, Thompson made it known that he would be open to a rematch against Till.
"I'd love to step back out there with my man Darren Till," Thompson told MMA Fighting's Eurobash podcast "I think we put on a show last time, so of course, I would love to [fight him again]. To be honest, any one of those guys that I've stepped in the Octagon with — Darren Till, Anthony Pettis, Tyron Woodley — I would love to step back in the Octagon with those guys."
"If that happens, heck yeah," said Thompson on the possibility of the Till rematch. "We're both coming off knockout losses. You never know, things could line up that way." If you enjoyed this story, please share it on social media!