Top-ranked UFC welterweight contender Stephen "Wonderboy" Thompson is preparing for the biggest fight of his life when he meets Tyron Woodley in the main event of March 4's UFC 209 from the T-Mobile Arena in Las Vegas – and apparently he'll be facing a sizable weight cut as well.
After Thompson fought "The Chosen One" to a close majority draw in a scintillating back-and-forth fight at last November's UFC 205, "Wonderboy" had criticized himself in the media for not bringing the fight like he normally does, something he's intent on implementing in the second bout. To do so, Thompson recently told BJPENN.com's Rapid Fire that he had bulked up significantly for the rematch, and said he is feeling stronger than ever despite facing a dramatic cut down to fight weight:
"Camp has actually gone really good. We are just winding down and last week was really hard training. We head to Vegas next week and then we will just be focused on the weight cut pretty much. So all of the preparation is in, we are done. So I am just focused on the fight right now.

"You know, last time I was walking around at about 182 (pounds). I'm up to 190 (pounds) and I'm trying to stay about right there. I am not trying to get over that (190-pounds). It is still a dramatic cut. But, I have done it before. I have done it in the past. So I know I can do it. I am feeling stronger and I am feeling faster than ever man."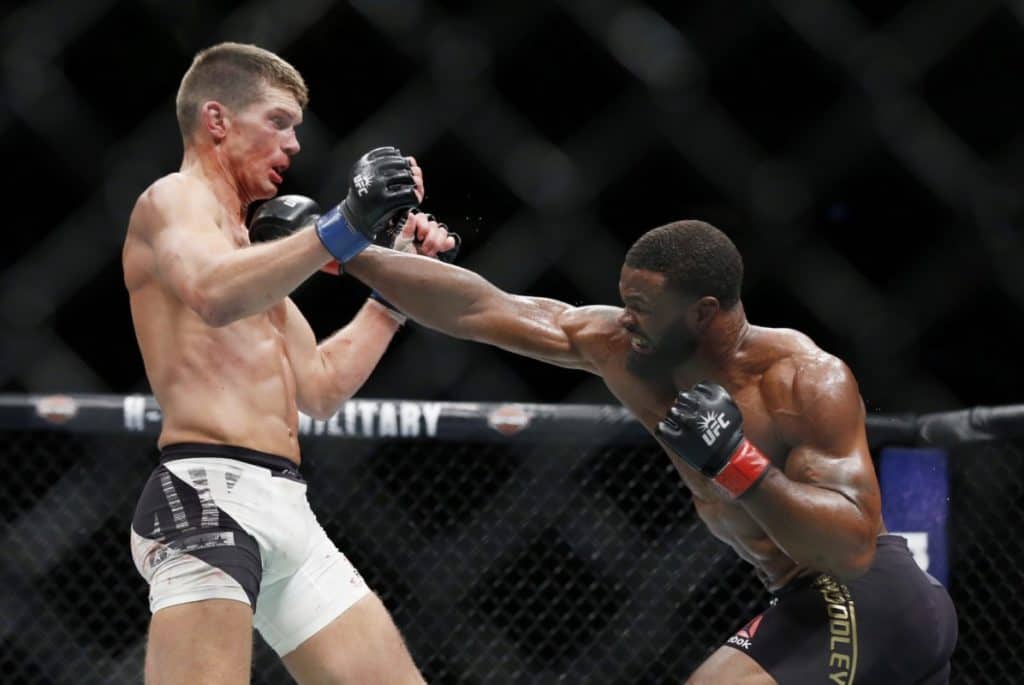 "Wonderboy" believes the extra muscle will give him the power to finish "The Chosen One" – something he knows he failed to capitalize on the opportunities he had in the first bout. But even with an impressive finish high on his priorities, Thompson said he'll stay patient and let the knockout present itself rather than forcing the issue against a slugger like Woodley:
"Well I know that he is training hard and that of course I am training hard. We are both definitely going to go out there and give it a hundred percent. You know I never go out there looking for the knockout. I just let it happen. In the past I have actually gone out there and looked for the knockout and just found that I wear myself out trying.

"So now I am more patient. If the knockout happens then it happens. If not, I am ready to go five five-minute rounds of war. That is what I am preparing for. I am just looking to go out there and leave it all in the octagon. This is for the welterweight championship of the world. This is for the title I have dreamed about. So you know I am going out there to give it all I've got. What I visualize is me getting my hand raised at the end of this fight with that belt wrapped around my waist."
"Wonderboy" seems to have his head in the right place less than two weeks from the biggest fight of his mixed martial arts career – and so far, the biggest fight of 2017.
Weight cuts have been the bane of many a high-profile fighter as of late, however, so it remains to be seen if the extra added weight will help or hinder a fighter who relies on speed, movement, and angles to implement a flashy, rangy kicking game. Is it the right strategy to fend off the brutish assault of a power-hitting wrestler in Woodley?