A staff photographer for Jackson-Winklejohn MMA gym is in hot water after an Instagram post calling Cris "Cyborg" a man.
The photographer, who was credentialed for UFC 219, is named Mark Aragon and his errant Instagram post has put the entire  Jackson-Wink gym in quite a bad light.
See the inflammatory post for yourself: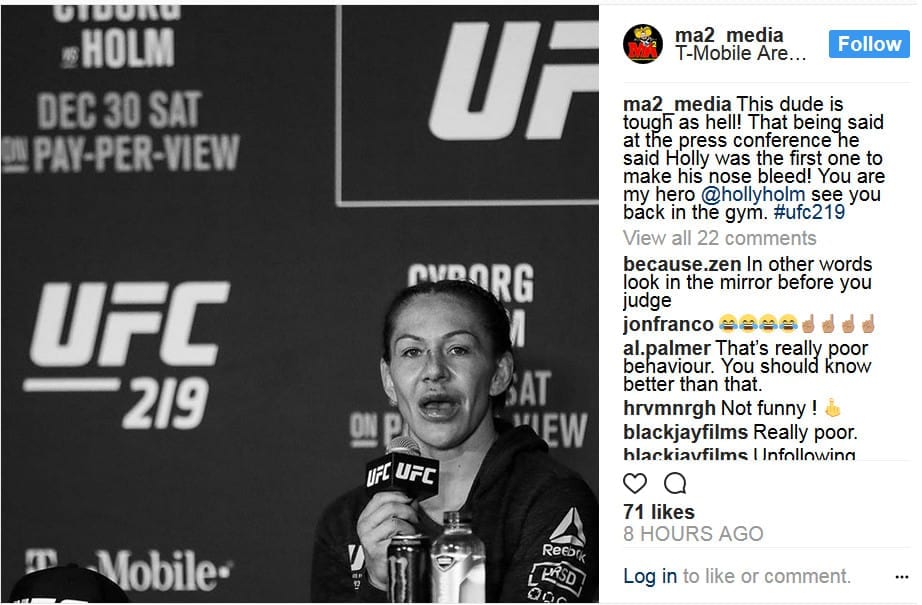 Aragon's official role within the camp is official video and media director as well as staff photographer. His post received immediate backlash and he eventually deleted it upon the indication of bad press.
Aragon has not yet responded to the post, but this isn't the first time the Jackson-Wink gym has been in hot water for a social media disaster.
Someone from the camp liked a post that called UFC bantamweight  Aljamain Sterling an "n-word", which was the cause of much consternation.
This is disgraceful and comes not long after the gym's Twitter account liked a tweet calling Aljamain Sterling the n-word. Sounds like some house cleaning needs to be done in ABQ. https://t.co/Pz1Ot24Nn6

— Marc Raimondi (@marc_raimondi) December 31, 2017
"Cyborg" defeated Jackson-Wink fighter Holly Holm in the main event of UFC 219.