In what could go down as one of the most rapid downfalls following one of the most meteoric title rises in modern MMA history, former UFC middleweight champion Michael Bisping was knocked in devastating fashion by Kelvin Gastelum (watch the knockout here) in the main event of today's (Sat., November 25, 2017) UFC Fight Night 122 from the Mercedes Benz Arena in Shanghai, China.
"The Count" took the fight on just three weeks' notice after getting rocked, battered on the ground, and ultimately put to sleep by a submission from Georges St-Pierre at November 4's UFC 217, agreeing to fill in against Gastelum for fellow former champion Anderson Silva after "The Spider" was flagged for his second failed drug test.
Long one of the most dependable and toughest combatants on the UFC roster, ultimate company man Bisping saw it as an opportunity to get back on the horse against a Top 10-ranked opponent without a wait and collect what was certainly a nice check in the process, and the UFC needed a headliner on short notice, so they gladly accepted his services. However, even though he was only issued a 30-day medical suspension at UFC 217 and was obviously cleared by doctors 9 days earlier, it's safe to wonder if the UFC should have pushed the decision through.
After all, it was a Fight Pass card from Shanghai that began at 7 a.m. ET on a weekend where many American MMA fans were still recovering from their turkey and shopping-induced hangovers from Thanksgiving weekend, and indeed many woke up to find out Bisping had been knocked out online rather than get up early to watch it live.
And with medical concerns like CTE mounting for fighters and other athletes, it's also safe to question if Bisping should have been subject to taking more damage from the sport's most powerful up-and-coming knockout artists such a short while after St-Pierre, never a man known for knockout power despite his legendary status, poured it on him so badly after nearly four full years away from the sport. He also had precious little time to train for Gastelum, who presented a much different challenge than St-Pierre, who was admittedly slower after putting on the weight necessary to compete at 185 pounds after fighting his whole career as a welterweight.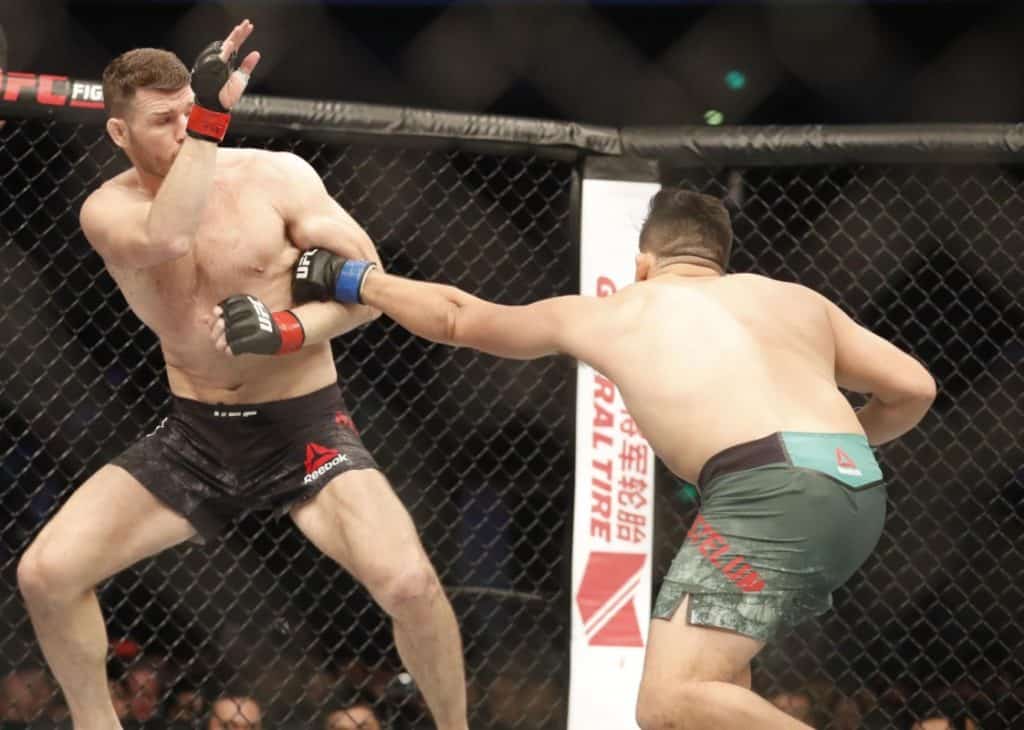 Gastelum has much quicker hands and footwork, and he definitely has more explosive knockout power in his fists, evident by the shockingly quick knockout blow he delivered to Bisping's chin in the first round.
To be completely clear, "The Count's" body of work cannot be denied, as he is tied with "Rush" for the most wins in UFC history and was on top of the world only three weeks ago after accomplishing his ultimate goal and winning the belt by knocking out Luke Rockhold at 2016's UFC 199 following a win over the all-time great (although controversial) Silva. But the fashion in which he was run through by St-Pierre and then Gastelum will make the oft-heard criticism of his title reign – that he ducked the best challengers and fought lesser opponents, like a retiring Dan Henderson and an out-of-retirement St-Pierre because he feared what would happen to him if he fought them – true in the eyes of many.
They said he would end up like he did in Shanghai, but that's just not really true based on what we saw today; at least not fully. We saw a great fighter, a tough-as-nails champion who wanted to erase the bad memory of perhaps his biggest loss by fighting another top fighter immediately after the loss. While it didn't pay off, not many, if any, top fighters would put so much on the line again so soon.
Bisping says he's going to fight again as well, with the March event in London slated for the 38-year-old TUF winner's final fight. Based on what we saw today, however, I'm not sure March is far enough way for him to recover from being choked then pounded unconscious in a single month. I'm not a pro fighter, let alone one who has remained at the top of the game for so long as Bisping has, and it's not anything close to my place to tell him it's time to hang up the gloves.
But I just can't help but think the UFC thought more about what little effect losing the UFC Fight Night 22 main event would have on their overall bottom line than Bisping's health, even if he wanted to take the fight more than anything else at the time.