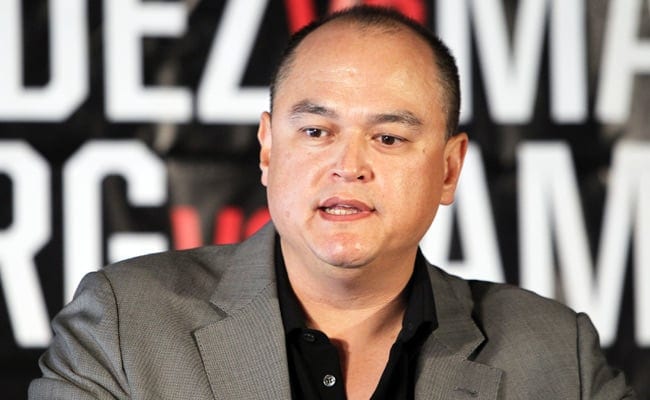 The past few weeks have arguably been the best in company history for Bellator MMA as they attempt to become a true force able to match the UFC in the international mixed martial arts playing field.
Highlights of their recent successes include the signing of top-ranked UFC competitors Ryan Bader, Lorenz Larkin, and Michael McDonald before they surprised the world by unveiling their second-ever pay-per-view (PPV) event with Bellator 180 this June from Madison Square Garden in New York.
The fact that Bader, Larkin, and "Mayday" all decided to join past UFC defectors Rory MacDonald, Benson Henderson, and Phil Davis in the Bellator cage shows that the wind of MMA are truly beginning to shift. Bellator President Scott Coker detailed how they've made such an impact in his short tenure during an appearance on this week's "The MMA Hour," where he laid out his plan to both develop young talent and sign high-profile veterans from the UFC:
"I told them, 'look, you have a good roster. It's not a great roster, but you have a good roster, and we have to build the new guys,'" Coker said. "We went and signed Aaron Pico. We and got a couple other guys. And now, the train is gone, man. We're signing guys like crazy, all the new prospects, the Tyrell Fortunes, Ed Ruths, Dillon (Danises) of the world. But at that time, it was really about grabbing a couple guys and let's build these guys. Let's go back to the basics, star identification, star building, and let's create some stars.

"And in the meantime, just like Strikeforce, let's go buy some free agents. Let's go buy the guys who have recognizable names. And Phil Davis was the first one who came over, then Benson Henderson, and then the floodgates opened. And now we have a very, very good roster and I'm really proud of what we've done, because really, I told Spike TV, I said, 'look, this is going to be a four-to-five-year process to get to this point, because it's not like it was back then where Pride was gone and guys were just floating around for me to start picking them up. So, we're going to have to build some, we're going to have to buy some,' and that's really been the philosophy of Strikeforce, and it's the philosophy I brought here. And it's worked both times, so I'm pretty proud of that."
He certainly has a lot of work to do and goals to accomplish before Bellator is condiered a true competitor to the UFC, but the former Striekforce leader has at least a chance to do so because of the cutthroat manner in which the UFC – both the new owners and old – do business. That is undoubtedly one of the hottest topics in MMA right now, and something Coker said was a boon to his business in two pivotal aspects:
"One was the sale of the [UFC]," Coker said. "That changed a lot, and it changed a lot for the fighters too. I think there were some bitter athletes out there saying, 'hey, you guys got all this money, $4 billion, and we're still stuck in this contract.' And I think that changed people's minds, and it made the phones start ringing.

"The Reebok deal was the original one that made the phones start ringing, and then the sale of the company, that was the next. I noticed a difference, because fighters are creatures of comfort or habit. They like to do the same routine. When they go to camp, they're with the same guys, same family. And when the family changes, then it's like, 'well maybe I should go talk to my old boss, or go talk to Bellator.' But at the end of the day, you know what it comes down to?"
Coker's words could be a bit of an insight into many fighters' mindsets throughout a turbulent 2016 that saw them feel both the effects of the constrictive Reebok sponsorship deal and the eye-opening $4.2 billion sale of the UFC.
The ramifications of those two sport-changing occurrences has lead to direct competition for fighters, something Coker said he detailed to Bader during his negotiations and views as an opportunity to finally pay athletes their full worth:

"I told this to (Ryan) Bader. Look, whether you stay with the UFC or you come to Bellator, it's good for the industry, because you're going to ultimately get paid more. You're going to help elevate your financial situation for you and your family because you have two bidders now. If you only had one bidder, maybe you wouldn't be getting as much as you are now. So, to me, it's good for the industry to have somebody else out there that can pay these athletes what they deserve, and I think they're appreciative of it. I think they see how many (UFC fighters) have come over, so it's just making people say, 'oh, well I should go check it out.'"