Sage Thinks Mickey Gall's Wins Are Like 'Fighting Someone's Dad'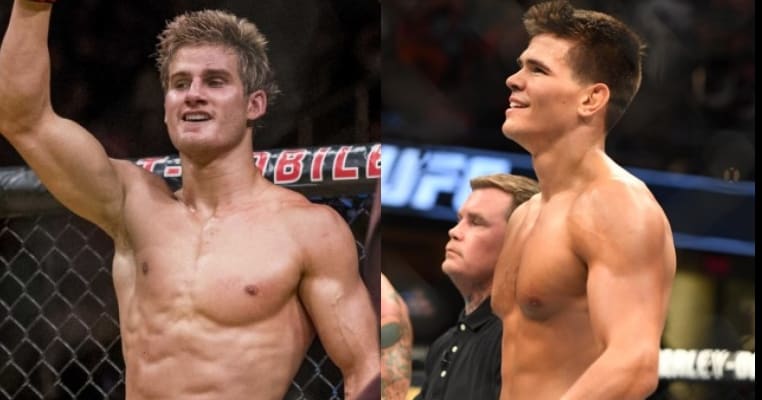 After Mickey Gall called him out for a bout at November's UFC 205 following his win over CM Punk at UFC 203, Sage Northcutt may not be able to fight him because of a staph infection, but that doesn't mean the two rising prospects can't throw down sometime very soon.
Speaking to Ariel Helwani during an interview on this week's edition of "The MMA Hour" (via MMA Mania), Northcutt revealed he's still looking for a bout with Gall, hopefully sometime in December. He also hinted that he may want to stay at welterweight for now:
"Me and my team reached out to the UFC. That's great with me and I am looking forward to it. There is nothing confirmed. We are talking to UFC about it and hopefully in December, that's what we are looking at. I like the fact that it's 170 for this fight because my previous fights I've had trouble making weight. So after this fight, I'm going to go back and figure it out."
"Super Sage" revealed he was looking forward to facing Gall because he believes the 25-year-old, who only had two pro MMA fights to his credit before he trounced Punk, who had zero fights, is overrated and does not have the experience needed to defeat him:
"His previous two fights in the UFC, he came in and fought two guys, which I've never seen happen before, that had an MMA record of nothing. They had no pro MMA record, no amateur MMA record. They had no fights at all. Him going in and fighting guys with no experience, both close to 40 years old, it's like fighting someone's dad that has trained very little for a fight."
Northcutt opened up about where he thinks he'll have an edge in the proposed fight, noting that he thinks he can knock Gall out or submit him:
"All I can say is that I have better grappling than him and I believe I have better standup. If I go out there, I can take the fight wherever I want. If I want to go out there and knock him out, I can do that. If I want to take him down and submit him, then I believe I can do that also."
With only one loss in his UFC career coming to an upset submission from Bryan Barberena, it's no surprise that the 19-year-old star wants to prove he can grapple with welterweights. Gall has looked nothing less than lethal on the ground in his relatively tiny body of work, but as Northcutt said, it's been against less than elite competition.
That makes "Super Sage" vs. Gall an interesting fight, and one that the UFC should probably book for its crowded December lineup.