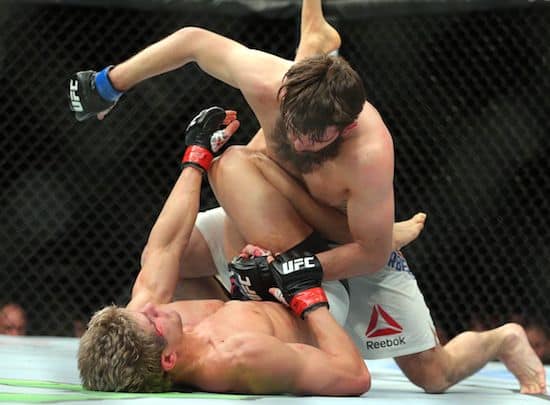 Heavily promoted 19 year old UFC hype train "Super" Sage Northcutt ran into the first speed bump in his young UFC career at this past weekend's (January 30, 2016) UFC on FOX 18 from Newark, New Jersey.
Usually competing at lightweight, Northcutt jumped up to 170 pounds to take on late replacement opponent Bryan Barberena, a move that would prove to backfire, as "Super" Sage would end up suffering a second round submission loss.
Appearing on today's (February 1, 2016) edition of the MMA Hour, Northcutt admitted that he had been struck with a bad case of strep throat just days before the fight, even saying that the UFC doctor had prescribed him with antibiotics:
"Well, first off, sorry if my voice sounds a little bit funny. I don't want to make excuses for my poor performance out there, but I actually had strep throat three times in the last four months. And then when I actually got down to New Jersey, I had been on multiple antibiotics. Then in New Jersey, two days before my fight, I had a real bad relapse of the strep throat and I had to go to the emergency clinic, or UFC had to take me. And then, Dr. D with the UFC had to write a prescription for me for more antibiotics and stuff like that."
It was the sickness, according to Northcutt, that hindered his breathing and ultimately his performance overall:
"So really, I really couldn't explain how I felt out there. I felt really horrible. I obviously don't want to pull out of a fight, that's not good. I just had a hard time breathing out there. I really wasn't myself, so that wasn't the Sage you would normally see out there in the Octagon. Even after the first 30 seconds, a minute out there, I couldn't breath. I felt like my legs were cement. It just wasn't me out there. So, I know I'll be coming back better than ever and I'm still healing up from feeling sick. In a few days I'm going back to the doctor again to try and heal up from all of this."
While many have criticized the submission defense and training strategies of Northcutt in the wake of the loss, it seems as if the lack of air and trouble breathing is what led to the early tap:
"I was so congested that I couldn't even breathe standing up. That's why I wasn't able to move the same, kick the same. What I wanted to do, I wasn't able to actually act it out and do it because my body wasn't able to keep up. And it was like my heart was racing. It felt like breathing through a straw. So, even if it wasn't the best lock, I was having such a hard time breathing that it was just as tight as it might have been if I was in that position if I wasn't sick. If that makes sense."
Do you feel as if this is a reasonable excuse from the young star, or does he need to make some major improvements regardless of whether or not he was sick on fight night?
If you enjoyed this story, please share it on social media!