Ryan Bader Rushes Daniel Cormier At UFC 187 Presser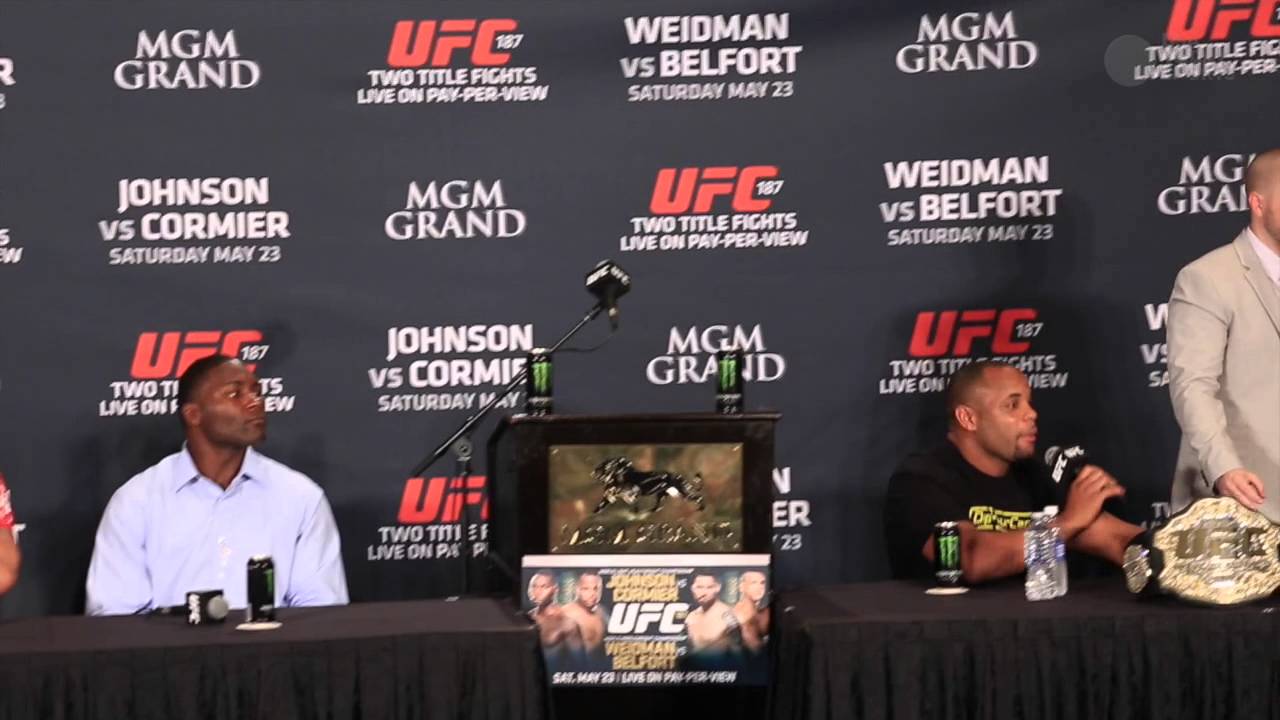 It was a good night for Daniel Cormier at UFC 187, as he stormed through highly touted number one contender Anthony Johnson in the main event. The vacated light-heavyweight title was the prize at the end of a long road for both men, but it was 'DC' who ultimately wanted it more. A third round submission win saw the AKA (American Kickboxing Academy) stand out crowned the champion.
The talk soon turned to 'Bones', and it's no wonder considering their intense rivalry before their eventual clash at UFC 182. One name that wasn't being thrown around too much before last night was Ryan Bader, apart from 'DC' basically calling 'Darth' a bum, and Bader is clearly not happy about that. The two were originally slated to square off as the main event at UFC Fight Night 68 in June, before Cormier got the call to fight 'Rumble' at UFC 187.
Still baying for blood, Bader showed up at the UFC 187 post fight press conference to get up in Cormier's grill. Check out what the new 205-pound boss had to say while Bader played the 'come at me bro' role, via MMAJunkie:
"At the end of the day, you guys know that competing drives me," he said. "I sat here five months ago in front of each and every one of you because that guy beat me. I would love to compete against him. But he's going to be away for a while, so we've got to shift our focus. There's somebody else that needs his ass kicked, too. I think he's around here."
"I'm right here" Responded Bader.
"There's Ryan Bader's ass," Cormier continued. "And I'm going to beat the sh-t out of him next time. You keep talking Bader. Keep talking Bader. This guy's so disrespectful, I'm trying to fight Anthony Johnson, and Ryan Bader is sending me stupid messages on Twitter, because he wants people to think he deserves a title shot."
"C'mon, Ryan, you can fight me," Cormier said. "You're just going to get your ass kicked like you were in June. Ryan, I didn't get out of any fights. Ryan, not once did I say I didn't want to fight Ryan Bader. I asked them to fight you because I just wanted an easy paycheck. I asked to fight you multiple times. C'mon. They said, 'Daniel, what do you want?' I want the easiest fight in the division, Ryan Bader."
"Just give me the check now Ryan, get the f*ck outta here this is my stage now"
So it looks like Cormier vs. Bader might be a no-brainer for the next title fight, but really and truly it's more by default than anything else. With Jones going AWOL, Rashad Evans still somehow occupying the fourth spot, and Glover Teixeira and Alexander Gustafsson set to tangle, there really is no-one else in the top 10 that could even troll their way to a title fight.
'Darth' is currently poised in the number five spot in the official rankings, riding a four-fight win streak. He has defeated Phil Davis, Anthony Perosh, Rafael Cavalcante and Ovince St-Preux all by decision. He doesn't exactly have the most crowd pleasing style, but who else would you suggest for Cormier's first title defense?
Is anyone interested in seeing Daniel Cormier take on Ryan Bader?