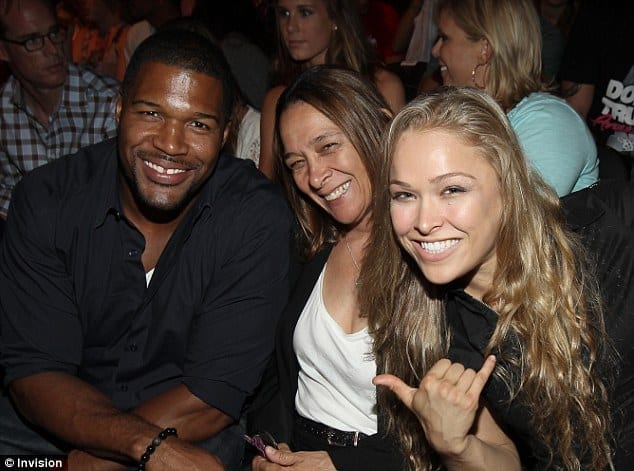 This week has already seen a veritable windfall of news surrounding UFC women's bantamweight champion Ronda Rousey's relationship with UFC heavyweight Travis Browne.
"Hapa" appeared on The MMA Hour yesterday (Mon., October 13, 2015) to confirm that he and Rousey were indeed together, and "Rowdy" soon issued a statement she didn't feel was exactly necessary given that it was her personal life.
But with her personal life on full display as MMA's biggest-ever mainstream star, unfortunately the details of her romantic relationships will be aired online at every turn.
And Rousey's biggest supporter, her mother AnnMaria De Mars, hasn't exactly been a voice of rousing support for her daughter, coming straight out and saying that Ronda hangs out with some "douchebags." While it was unclear exactly whom she was speaking about, it appears that she may be referencing her daughter's new boyfriend.
It's not official, but De Mars seemed to tweet a message of disdain for Browne, stating that Rousey's friends and family supposedly think "he" (or "she," supposedly, after a clear "he" at first) is a douchebag:
If all of your friends and family think someone is a douchebag, he's not misunderstood, he (or she) is a douchebag #adviceFromMom

— DrAnnMaria (@DrAnnMaria) October 12, 2015
Always a powerful feminist never afraid to speak her true feelings, De Mars appears to have taken the gloves off in criticizing Rousey's choice of partner, adding a #AdviceFromMom hashtag for good measure.
With Browne being investigated for domestic violence allegations from his estranged wife Jenna Renee Webb, many have blasted Rousey's decision given her harsh criticism of Floyd Mayweather for beating women and her constant association with known domestic abuser and convicted rapist Mike Tyson.
Do you agree with them? Is Rousey sending mixed messages as she cashes in on the fame she's gained in large part to her "girl power" attitude?