Former UFC women's bantamweight champion Ronda Rousey isn't too happy with how people on the internet have reacted to her comments lately…
The media storm surrounding Ronda Rousey reignited earlier this year, when she emerged from a two month hiatus from the limelight. Following her devastating knockout loss to Holly Holm at UFC 193, the former women's bantamweight queen went in to silent running, a stark contrast from the Ronda Rousey road show that we'd seen the 12 months prior to November 14. It seems her fall from grace was as swift as it was brutal, but it wasn't just the loss that hit 'Rowdy' hard.
The myriad of hurtful memes and images that circulated the web in the days after Rousey's loss shocked the ex-champ and her loved ones, and probably aided her clamming up and exiting the public eye. All seemed forgotten when the ex-champ resurfaced with a recent appearance on the Saturday Night Live show, she was even singing and dancing, taking part in comedy sketches and just seemed far more uplifted. But the mood in her most recent interview is once again glum, at best.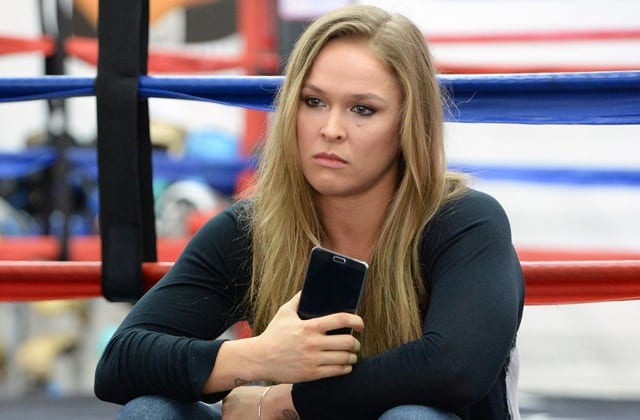 After her appearance on SNL and also numerous interviews, it looked as though 'Rowdy' would be back for good, but then came the news that multiple movie roles would delay her proposed UFC 200 comeback. A recent appearance with Ellen DeGeneres was more revealing than any we'd seen in 2016, as Rousey dropped the bombshell, claiming she considered suicide after her shocking loss to Holm last year. This once again opened the floodgates to online hatred, but 'Rowdy' tells MMAJunkie she just ignores it:
"To be honest, I've been trying to disappear as much as possible," Rousey said. "I don't look at articles. I don't look at tags. I don't look at comments. People on the Internet are mostly evil, and I don't want to accept any of that negativity. I just use social media to put information out there, but I really don't use it to receive it because people are really cruel with that access.
"I don't want to allow them that access to me anymore because they really take it for granted, and they don't look at you like a person. You're an event to them. I don't want want to read people saying all the worst things they can imagine about me every single day. I just put what I have to put out there out there, and I don't look at anything else."
"I never used social media until it was to help me with work – until I was hustling and trying to get people to catch on to this whole women's MMA thing," she said. "It's only been something for work for me, except in the Myspace days, which all I used that (for) was to put pictures out and tell jokes about things that people take totally out of context now. I'm like, 'Why did I do that?' Because I thought I had like 12 friends and they all got it and I'd never be famous, so who cares? I don't really use social media for fun except to look at clothes I like or photography I like.
"But the actual social part? That's the same as searching through the Internet, to be honest. I use social media like I use Google Images. It's not really a void in my life, and I don't miss it at all. If I'm going to socialize with somebody, it's going to be in person. If you know me, you can call me or text me. And if you don't know me well enough to have my number, well, then you shouldn't be talking to me anyway."
"I'm being purposely mysterious right now because I think people have taken my availability for granted," Rousey said. "I'm kind of just wanting to disappear. Everyone is constantly keeping me under a microscope, and I just kind of want to be left alone right now."
So is Rousey reaping what she had already sewn with so many media outbursts in the past, or does the MMA community owe the ex-boss an apology for the inhumane way she's being portrayed?