Report: UFC Looking To Sign Anthony Joshua To Big Money Deal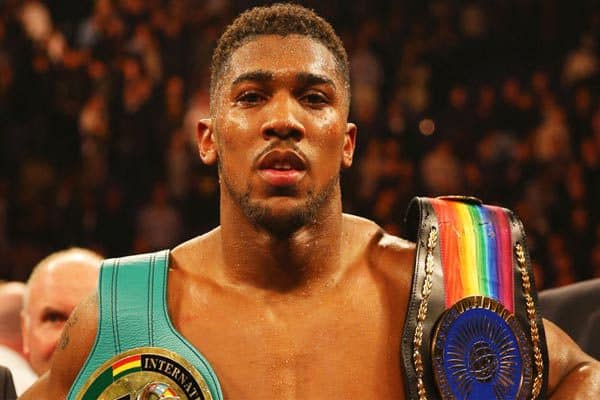 The UFC is reportedly wanting to sign Heavyweight boxing champion Anthony Joshua.
The sport of boxing and MMA is an interesting place right now. It seems that MMA fighters want to be boxer and boxers want to be MMA fighters.
Historically, both sports have stayed in their lane, but that has changed once the big fight between Conor McGregor and Floyd Mayweather took place last August. No doubt it changed the game and those who are fighters want to get as much money as possible for their services.
Joshua (20-0, 20 KOs) is slated to compete in a major unification bout with New Zealand's Joseph Parker (24-0, 18 KOs) on March 31st in Cardiff, Wales. This marks the third consecutive stadium show for England's Joshua, who is one of the highest-paid, biggest stars in the sport today.
UFC President Dana White has made it well known in the past that he is a big fan of the heavyweight champ and would like to promote him as part of his planned venture into boxing.
Gareth A. Davies of The Telegraph is reporting that White will attend the upcoming fight and will attempt to lure Joshua away from promoter Eddie Hearn with a ridiculously lucrative multi-fight offer.
According to the report, the promotion would be willing to offer him a deal that could earn him $500 million (£353 million) and make him the richest British boxer of all time.
He could earn $50 million (£35 million) per fight if he switched to them. It should be noted that Joshua is expected to earn around $20 million US for the Parker fight.
There are many who believe if he wins his next fight then Joshua would face off against WBC champion Deontay Wilder (40-0, 39 KOs) in the fall and unify all four major belts.
"A fight is a fight at the end of the day," he said to Sky Sports when he was asked if he would compete in mixed martial arts. "So yeah man, I'd do it."

"I'd have to have a couple warm-up fights first," he said. "You have to learn the submissions."