Recording: Rampage Jackson Drunk Dials Ariel Helwani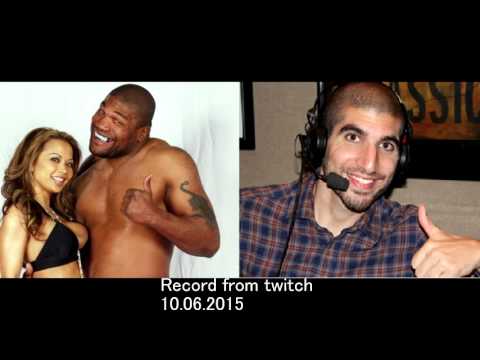 Quinton 'Rampage' Jackson appeared on the 300th episode of the MMA Hour this week, and attempted to squash the beef with Ariel Helwani. Their apparent feud stemmed from alleged comments by the MMAFighting staple that Jackson's reality TV show was no good, and was further fuelled by a confrontation at a press conference.
Anyway, the awkward interview they shared on Monday included 'Rampage' hinting at retirement. A statement he would later go back on by saying the UFC had talked him out of calling it quits. It seems Jackson may have had a few too many beers while playing video games on twitch this week, and drunk dialled Airel Helwani in the early hours of the morning. The UFC reporter forwarded the first call to his voicemail, but as you'll hear above, answered eventually.
Bloody Elbow had the quotes:
"Ariel, I'm sorry for calling you so early in the morning, but I noticed that you sent my call to your voicemail, which means that your big-nosed motherf***ing ass is up. The only reason why I called your motherf***ing punk ass is because I'm up playing on Twitch and Team Rampage told me to f***ing call you. I don't know why they like you, but they like you, they dig you. So, I called your motherf***ing ass early in the morning and you sent me to voicemail. That's why we ain't never gonna be boys, motherf***er. Take your punk ass to sleep. Yeah, f*** Ariel."
Jackson is known for his outlandish behavior, indeed he is loved by many for his antics, but this odd beef with Helwani is hard to decipher. Is the Pride FC veteran and former UFC light-heavyweight champion playing games, or is he genuinely unhappy with Helwani?
We're not sure whether 'Rampage' Jackson will ever fight in the UFC octagon or Bellator cage again, but he's certainly staying well in the limelight this week.
Stay tuned.