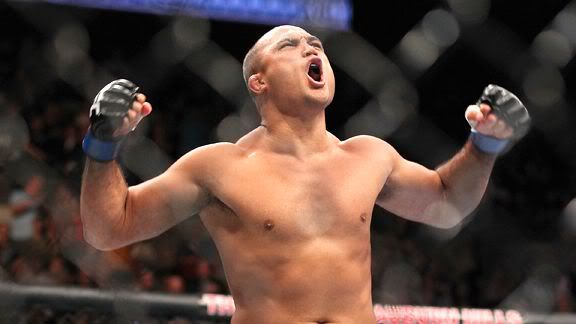 Former UFC lightweight and welterweight champion BJ Penn announced his retirement from the sport after 13 years of fighting this past Sunday (July 6, 2014). The news came rather expectedly after being dominated and finished by Frankie Edgar in their rubber match at The Ultimate Fighter 19 finale. There are still some questions though.
One such question would be regarding Penn's stance, and overall game plan for his third fight with 'The Answer'. 'The Prodigy' seemed out of sorts, and nothing at all like the former champion that we are used to seeing. Famed grappler Eddie Bravo spoke about Penn during a recent blog to 10thplanetJJ.com:
"That crazy strategy should retire not BJ, kill the tip toe boxing stance, kill the feet on hips guard and kill the flat on the back defensive butterfly guard. 35 is not old. He's in amazing shape. He didn't lose because his body is breaking down. He lost the way he did because of that strange strategy. The whole world was confused. "
"And of course I would recommend an offensive clinching guard when on his back. Not one arm bar, Oma plata, Gogo plata, or triangle attempt by BJ. Vitor went after Jones off his back, Pettis went after Benson, Anderson went after Chael, even Tito went after Machida off his back, there's no reason BJ can't attack off his back. He should stay at 145, and fight a couple of mid level guys to get his confidence back and I truly believe, with the correct/proper training camps, he can still beat some of the best at 145."
It was truly puzzling to see 'The Prodigy' in such a defensive shell, and even harder to watch when he was inevitably dispatched by the faster Edgar. Penn's emotional post-fight retirement brought to an end a career that spanned two decades, and gave 'The Prodigy' legendary status.
All the nostalgic stuff aside, I can't help but find myself agreeing with Bravo's statement. The near two year absence from the sport did Penn no good whatsoever, and he probably never should have fought 'The Answer' on his return. The fight made no sense, that was obvious, but also Edgar had been active for the whole time since last fighting BJ.
I'd like to say that Penn may be back one day, and that his heart won't let him stay retired, but the chances of that are probably pretty slim. What do you think, should he stay out, or come back and fight guys like Gray Maynard, Jorge Masvidal or Joe Lauzon?