Former UFC women's bantamweight champion Ronda Rousey has well and truly been through the mill in the last ten months. Her first professional loss against Holly Holm at UFC 193 was a tough pill to swallow for 'Rowdy.' Fans hoping for a near-future return for the former undisputed queen may be waiting a while, as Hollywood movie roles beckon. This scenario is a complete opposite to what we saw in the years leading up to her devastating knockout loss last November.
The MMA world, for a time, could not get enough of Ronda Rousey. Her ever-swelling confidence and sub-minute finishes had the mainstream salivating for more, as awards and accolades flooded in with each dominant win. Front covers of Ring Magazine and ESPN showed how big 'Rowdy' had become, but in the midst of this media frenzy was the underlying thought of an almost imminent loss. When it finally came to be, that single 'head kick heard around the world' held more power than any of us had first realised.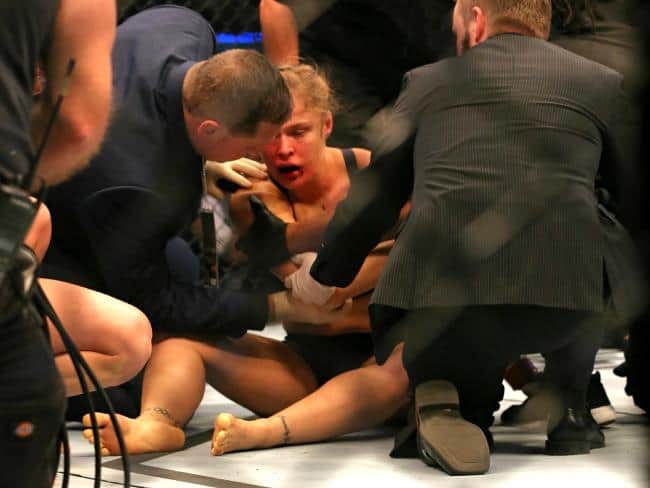 Where had the boisterous ruler of the female bantamweights gone? In her absence was a toned down, reportedly depressed Rousey. She even revealed that times got so hard immediately after UFC 193 she'd considered suicide. The thought of 'having Travis Browne's babies' was the only thing that kept her going.
From the untouchable ruler of the 135-pound division, nemesis of Cris Cyborg, to the much more human version of Ronda Rousey seen during and after UFC 193, it's been quite the transformation. Once calling non stop for a fight with 'Rowdy,' her Brazilian rival Cristiane Justino made some very interesting comments about the former champ via Twitter: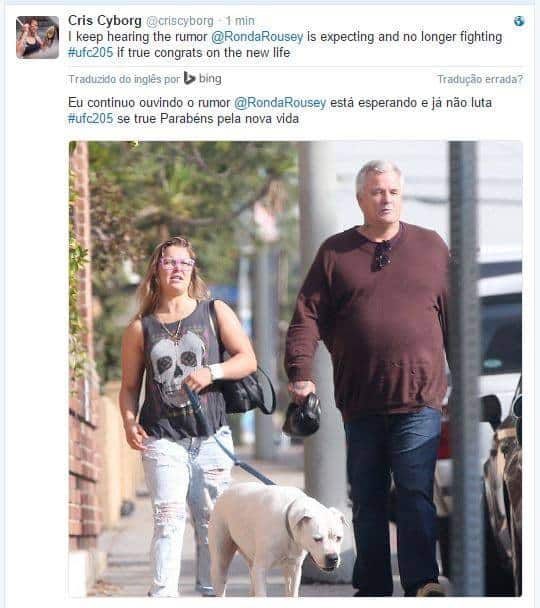 A well disguised troll? Quite possibly, or maybe Cyborg does simply wish her rival the best. On top of the brutal loss and the time in the Hollywood limelight, could being pregnant prove the last step towards Ronda Rousey officially retiring?
There'll no doubt be a ton of fights waiting for her if Rousey does decide to come back, and if this is a troll by Cris Cyborg, then the rivalry is clearly far from over.