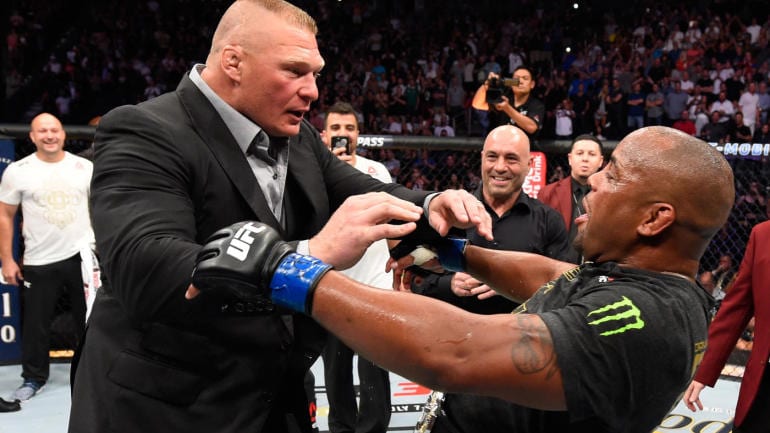 Brock Lesnar will be a tougher fight for Daniel Cormier than his latest bout against Derrick Lewis according to one former UFC star. "DC" continues to add more achievements to his legacy that will be looked upon once he steps away from the sport of MMA.
Over the weekend at the UFC 230 pay-per-view event, Cormier was able to successfully retain his title over Lewis. It's been established that Cormier would like to make his next title defense against Lesnar at the UFC 233 event.
Brendan Schaub recently gave some high praise to Cormier following UFC 230.
"What makes DC great is yes, obviously he's athletic. He's gifted with some abilities a lot of other guys aren't, but Daniel Cormier's brain, his cerebral game is so much better than everybody else that's ever fought," Schaub said recently on his Below the Belt podcast.
Lesnar More Threatening?
The former UFC heavyweight star continued by stating that Cormier has a better mental game than Jon Jones or even Alexander Gustafsson.
"He's way better at the mental aspect of facing adversity, sticking to a game plan with what he has. Is he more athletic than Jon Jones? No. Is he more athletic than Gustafsson? No. His mental game is so much better than these guys. He's the most intelligent fighter to ever fight in the UFC. I truly believe that."
The former fighter-turned-podcaster and comedian brought up how Lesnar is an athletic freak. He also thinks that Lesnar doesn't get talked about enough for this.
"[With Lesnar] you're talking a complete freak," said Schaub (H/T to MMAFighting). "Athletically, is he the biggest freak to ever do it? He's f**king up there, man. We don't talk about it enough. A guy at his age and with his background. He's not even a part time mixed martial artist."
At the end of the day, Schaub sees Lesnar as a tougher fight than Lewis.

"He's f**king tough to deal with. No one goes in there and is like, 'Ah this is a gimme fight.' Even DC's not like that. I promise you Brock Lesnar will be a tougher fight for DC than Derrick Lewis was. We don't give that man enough props."