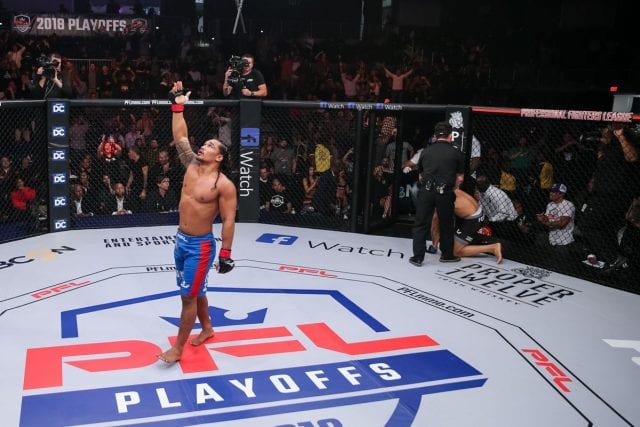 A relative unknown before this season, Hawaii's Ray Cooper III made a statement last night (Oct 20, 2018) at PFL 10 on NBCSN from the St. Elizabeths East Entertainment and Sports Arena in Washington D.C.
Cooper finished Jake Shields and Handesson Ferreira via first-round TKO's to advance in the Professional Fighters League (PFL) $1 million welterweight tournament finale.
The Hawian faced off against Sheilds in the quarterfinal round. This fight ended much like their first encounter six months prior. However, Cooper managed to close the show in the first round this time around.
Watch Cooper smash Shields here (via Twitter):
From Hawaii to one step closer to NYC! Welterweight Quarterfinal: #1 seed Ray Cooper III defeats #8 seed Jake Shields by TKO in Round 1. Cooper advances to the Welterweight Semifinals. #PFLPlayoffs #MMA @jakeshieldsajj pic.twitter.com/CyiBNCRwb0

— #PFLmma (@ProFightLeague) October 21, 2018
The 25-year-old Cooper was just getting started there, however. The Hawaiian took on Ferreira in the semifinals just an hour later. Like the Shields fight before it, the Ferreira fight was another rematch for Cooper, further adding to the intrigue of the tournament structure.
But Cooper would end this fight much in the same fashion as his earlier performance against Shields, by way od violent ground and pound. Watch Cooper TKO Ferreira here (via Twitter):
The Braddah Boy cannot be contained! Welterweight Semifinal: #1 seed Ray Cooper III defeats #5 seed Handesson Ferreira by TKO in Round 1. Cooper advances to the PFL 2018 Championship at @HuluTheaterMSG for a shot at $1 Million! #PFLPlayoffs #MMA @HFboydoido pic.twitter.com/Sr71Se3ljm

— #PFLmma (@ProFightLeague) October 21, 2018
Cooper entered the postseason as the No. 1 seed in the welterweight division. His performances on Saturday night solidified his opportunity to win $1 million payday. His opponent will be Magomed Magomedkerimov.
The two will square off at the 2018 PFL Championship (PFL 11) on Dec. 31 live on NBCSN from inside Hulu Theater at Madison Square Garden in New York City.