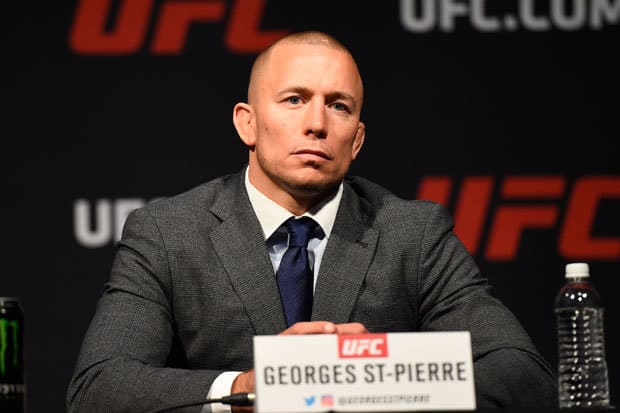 French Canadian mixed martial artists Patrick Cote and Georges St-Pierre have known each other for a long time, having fought in the same regional promotion before both signing with the UFC last decade.
So it's fair to say that Cote knows GSP better than any other fighter on the roster, and Cote believes the former welterweight and current middleweight champion won't be fighting for much longer, even with the strap around his waist.
Cote expressed his doubts during a recent interview on The MMA Hour:
"I have big doubts. I don't have any inside info and we are not close as we used to be, but what he said about that hard thing to gain weight."

"I don't want to take anything away from Bisping, I like this guy, he's a worker, amazing fighter and he had a great opportunity to be champion, but Georges against Whittaker, big guys like Romero, I don't know. Georges is super athlete but he doesn't have anything to prove against those big guys. I don't think he'll fight at 185 anymore."
Saint Pierre had dominated the welterweight division before retiring after UFC 167. He returned four years later to take on middleweight champion Michael Bisping, who he defeated by submission at UFC 217.
Now ruling over the 185-pound division, Cote says GSP has many options outside of fighting. Cote himself retired after a loss to Thiago Alves at UFC 210.
"For sure, I would not be surprised if he said, 'It's over, I just wanted to feel that feeling again.' Why I say that is because is took him so much time to get out of the cage. He stayed in the cage and he was kind of feeling everything he was able to grab about all the emotion."

"He was in the cage for almost 20 minutes after the fight, He was looking at everything and grabbing all the energy just to say 'That was that, I did it and I am not going to miss that anymore.' This is the feeling I had when I was at MSG. But no, I will not be surprised if he is done with fighting."
Do you think GSP will be fighting for much longer?