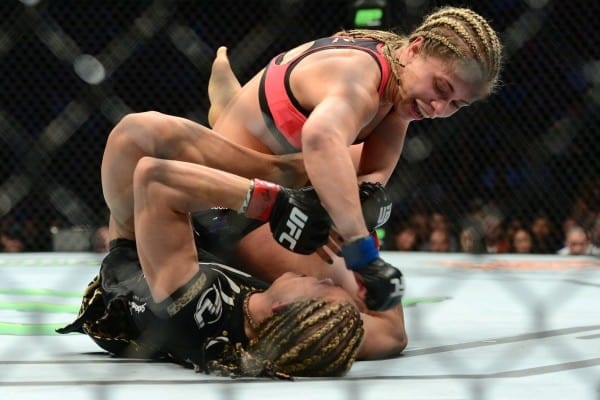 Paige VanZant is one of the UFC's fastest rising stars, and not just in the women's strawweight division, but in all of MMA.
Case in point, even though last weekend's UFC 191 from Las Vegas, Nevada, had flyweight champion Demetrious Johnson and veterans Andre Arlovski and Frank Mir on the card, VanZant was the most searched fighter on the UFC's website.
Dana White the curious position VanZant is in during an appearance on last night's UFC Tonight:
"She's in a really weird position. She's extremely popular; the most searched fighter on the website the entire weekend. If you look at that card and the fights that were on that card, Paige VanZant the No. 1 searched fighter for the weekend on the website."
Michael Bisping also asked about VanZant's standing in the strawweight division, wondering if she was ready for the division's elite. White responded that '!2 Gauge' was still not close to ready to take on dominant division champion Joanna Jedrzejczyk:
"She's in this place where, she's probably looking to fight No. 5; she's ranked 6 now, but she is not ready for Joanna Jedrzejczyk You have to move her the right way. But she puts 'Mighty Mouse'-like pressure on fighters, she keeps moving forward, she's tough, she's durable, she's scrappy, she's fun to watch, people love her. It's gonna be fun to see how she progresses."
With VanZant's sharp rise in popularity and ranking in the UFC, is she ready to take on a Top Five women's strawweight in her next fight?
If you enjoyed this story, please share it on social media!