Boxing icon Oscar De La Hoya reveals he was blackmailed for million dollars over infamous lingerie pics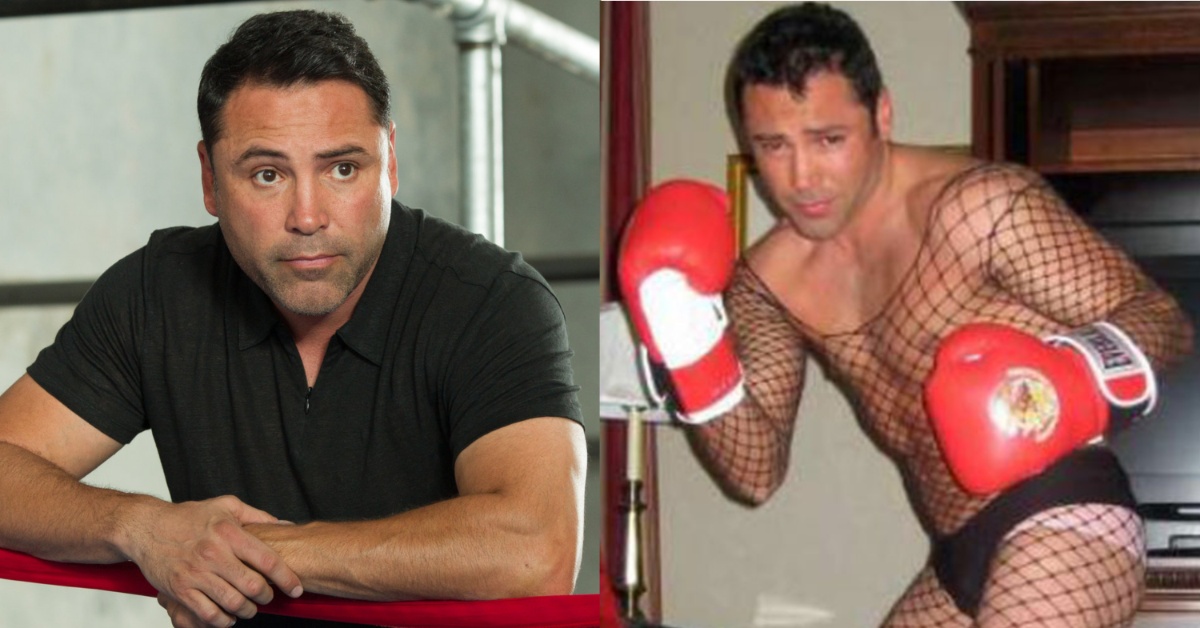 Oscar De La Hoya shared some shocking details regarding a series of controversial pictures showing the boxing icon dressed in drag.
It's been nearly 15 years since multiple pictures made their way online showing the 'Golden Boy' posing in a series of scantily clad photos while in women's lingerie. Downright denying the pictures for years, De La Hoya eventually owned up to participating in the amateur modeling showcase. In an exclusive interview with BigBoyTV on YouTube, the Olympic gold medalist opened up about the infamous evening and what led to the picture hitting newsstands.
"It's the truth. I accept it. I now accept it. I don't have to deny it anymore," De La Hoya said. "All these years I denied it. 'No, that's not me. Wait, I didn't wear those f*cking women's clothes. I didn't f*cking drink that.'
"Yeah, that was me. I had one of these binges. Drunk nights and I guess this girl told me where the f*cking clothes. Alright, f*ck. What man wouldn't? Probably two hot girls. F*ck, I mean, I'm f*cking blasted.
De La Hoya revealed that he had been partying fairly hard with two Russian women when they coaxed him into putting on and modeling their lingerie. 'Golden Boy' also suggested that he may have been drugged as he does not remember anything about that evening.
"Some freakin' hot Russian. There was actually two of them. It was embarrassing," De La Hoya continued. "I don't remember it because I think I was, what do you call it? Roofied. So I don't remember it."
Oscar De La Hoya Reveals That He Was Blackmailed for a Million Dollars
In another crazy turn of events, Oscar De La Hoya revealed that the very next day he had received a call from his lawyers who informed him that he was being blackmailed with the photos.
"The next morning, I wake up in bed. This was in New York. I wake up in bed and they're gone. So then I get a phone call from my lawyer here in L.A. and he tells me, 'Dude, what's going on?' Some Russians called me that they wanted a million dollars for pictures. I'm like, 'Oh f*ck, what the f*ck happened? What did I do?' I don't remember. I don't even know I put those clothes on. So they fly right away from L.A. to New York. So the next day we have a meeting. 'Yeah, so they're asking for a million dollars. Alright, well give it to them.'
"I mean, give it to them because my f*cking image is squeaky clean and I can't mess with it. People can't know. Give it to them. So they had, and I'm not gonna say the name of the individual, my lawyer at the time. I don't want to ruin his career, but he had to go on top of a rooftop where there was a pool in New York. Take off all his clothes, jump in the pool, and then the Russian jumped in the pool and they negotiated right there inside the pool just to make sure they didn't have wires or anything.
"So they negotiated a million dollars. 'Yeah, pay them. Pay them whatever.' So we paid them and boom, they still released the pictures. So what are you going to do? You can't do anything about it."
After everything was said and done, De La Hoya says that he finally found peace by coming clean. By being honest with himself and the public, the weight of those infamous snapshots suddenly lifted, allowing him to finally move on.
"I realized it just six months ago that I can recover from it when I was honest with myself. When I was truthful. When I can now look at myself in the mirror and say, 'Yeah, you've committed so many mistakes, but you've got to own up to it. You have to be honest.' That's it. Honesty will set you free."