Oscar De La Hoya Back in Rehab, Won't Attend Mayweather vs. Canelo Fight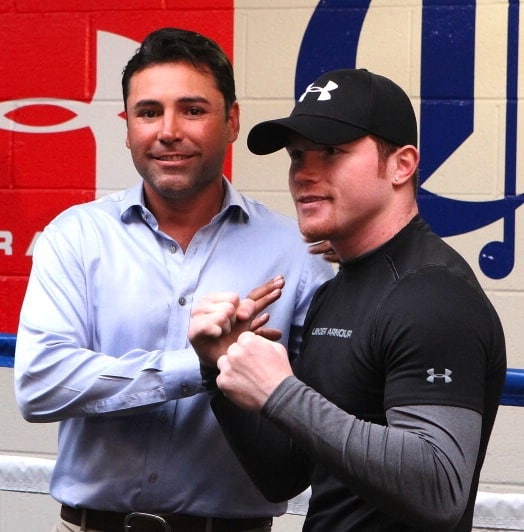 (ODLH with Alvarez at a media workout in April. / Photo via Getty)
Two years after going public about his longtime struggle with alcohol and cocaine, legendary boxer and promoter Oscar De La Hoya has re-entered treatment for substance abuse. As a result, he will not be in Las Vegas this Saturday to support Saul "Canelo" Alvarez, the Golden Boy Promotions star who faces Floyd Mayweather in a light-middleweight title fight at the MGM Grand Hotel & Casino. As De La Hoya said in a statement released today:
"Canelo Alvarez and I have big fights coming up this weekend. His is the ring and mine in treatment.
"I will not be at the fight to cheer Canelo to victory since I have voluntarily admitted myself into a treatment facility.
"I explained this to Canelo and he understood that my health and longterm recovery from my disease must come first.
"Thank you for your understanding. I ask for your support and privacy during this difficult time for me and my family."
De La Hoya said he considered suicide at his lowest point before his previous rehab stint, and described his ongoing quest for sobriety as "the toughest fight of my life." We wish De La Hoya the best of luck in his recovery.