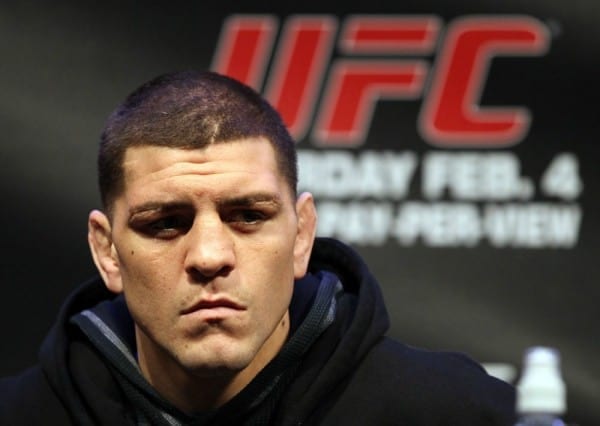 Ever since Nick Diaz was shockingly suspended five years by the Nevada State Athletic Commission (NSAC) due to a failed drug test for Marijuana metabolites, the mixed martial arts (MMA) community hasn't been quiet about their displeasure towards the commission.
Many fighters have voiced their opinions, none more notable than superstar bantamweight champion Ronday Rousey, who bashed the NSAC at a UFC 193 press conference. Recently speaking, Diaz said that Rousey is a great friend, as she didn't have to do what she did:
"She didn't need to do that," Diaz told TMZ on Monday. "I don't know if she caught heat for it…I hope she didn't. But Ronda understands how I am. She's like me, only a girl. A prize fighter. She's a great friend."
At 31 years of age, a five year suspension almost undoubtedly ends the career of the Stockton bad boy, and he claims that unlike other fighters, he doesn't have a wife or kids, and he devotes his whole life to fighting which is why this is so upsetting:
"It's upsetting. I held off on having kids and getting married so I could fight. I gave my life to this. I am a fighter. It's what I am. A lot of guys have to worry about what their wives and kids think, I don't. All my attention goes towards fighting, and now I don't know if I can fight. They've taken it away from me."
Although not as active over the last few years, it's clear that Diaz still wants to fight, and many believe that he should still be able to. The UFC, and other athletic commissions are rarely seen going in the opposite way of the NSAC, but the former Strikeforce champion is hoping that he'll be able to fight in other states at some point:
"I've been hearing other states' athletic commissions are angry about the ruling, so hopefully I'll be able to fight in those states," he said.
Diaz is one of a kind, and it's clear that he's loved by many. Will we ever see the Stockton brawler fight again?