Nick Diaz Accuses 'F*cked Up' Conor McGregor Of Hitting Kid With Bottle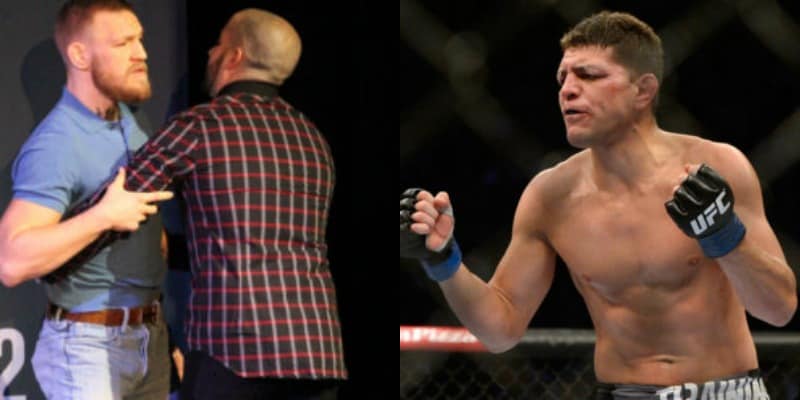 Many had expected fireworks to transpire at today's UFC 202 press conference, as the event, which is headlined by a highly-anticipated rematch between bitter rivals Nate Diaz and Conor McGregor, is now just days away, but few had any real idea of what was about to take place. The press conference ultimately began without McGregor as the Irishman was late as he typically is, but when he arrived, mayhem was upon us.
Minutes after the arrival of the "Notorious" one, it was clear that Diaz had had enough, as he got up from his seat and left alongside his team which consists of his brother and UFC veteran Nick Diaz as well as ex-UFC fighter Jake Shields. Cursing and yelling between Team Diaz and Team McGregor followed, and before we knew it, bottles and cans were flying through the air.
Check out McGregor firing a can towards Diaz below courtesy of ESPN's Brett Okamoto:
— Brett Okamoto (@bokamotoESPN) August 17, 2016

In the aftermath of the chaos, Nick Diaz took to social media to accuse McGregor of hitting a kid with a bottle, saying that the Irishman was 'f*cked up' (Via MMAJunkie's Chamatkar Sandhu):
Nick Diaz to Conor McGregor: That's fucked up. Bro why you hitting kids with bottles? pic.twitter.com/Ji3lpJhz1f

— Chamatkar Sandhu (@SandhuMMA) August 17, 2016

Okamota added to Diaz's statement, saying that the young girl is the younger sister of someone within the Diaz camp:
Yes, the girl in Nick's video who says she got hit by Conor's bottle is with them. Younger sister of someone with Nate's camp.

— Brett Okamoto (@bokamotoESPN) August 17, 2016
What do you make of this insane situation?