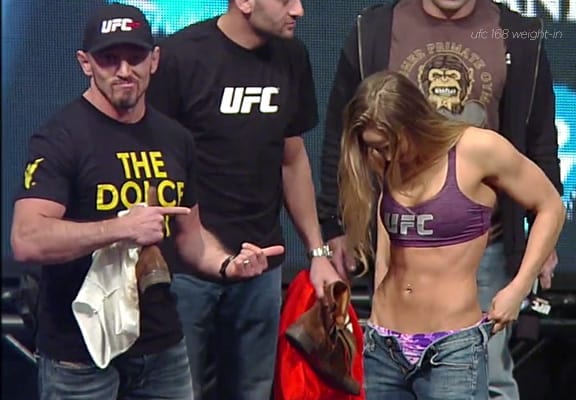 Ronda Rousey may be fighting Miesha Tate for a third time when she climbs back into the cage presumably sometime early next year, but the one women's MMA fight that's still on everyone's mind is the long-awaited superfight between 'Rowdy' and Invicta FC featherweight champ Cris 'Cyborg' Justino.
By now it's common knowledge that Rousey understandably wants the fight to take place at her home of 135 pounds, but the massive muscled 'Cyborg' wants the bout at a catchweight of 140 pounds. She's gone back and forth about attempting to make bantamweight, and it always seems to come down to something to do with her health.
Those are legitimate concerns, however, according to Rousey's nutritionist and famed diet guru Mike Dolce, who recently told MMAjunkie Radio that he was genuinely worried about Justino being able to make the weight given that she's actually gotten bigger over the past year:
"There's a little concern on 'Cyborg's' side, even from me. She's a sweet girl and I have nothing bad to say about her. She's a sweet person. I don't like the things they say in the media and her whole PR spin, and I don't believe it. She's sweet and to see her being so large right now and the prospect of her making 135 pounds, I think those are legitimate concerns. When I met her a few years ago she was in the low 160s. That's a whole different conversation now that she's in the mid 170s.
"This is an athlete that's gotten bigger over the last year while talking about making 135. That's a scary thing. I don't think that she'll do the right things to make 135 in a health manner, specifically in a short period. They're talking about making it in December. If they can make it, make it in December whether it's for the UFC or Invicta, show you can do it, then look healthy doing it and we'll set the fight. We'll do it immediately."
That alone has been Rousey's stance from the beginning of this drawn-out feud, and the champ isn't budging in her assertion that the biggest women's MMA bout in history (and most likely one of the biggest ever overall) happens at 135 or not at all. 'Rowdy' won't meet Justino at featherweight at anywhere else, and for good reason.
Dolce said that with her weight hovering around 151 pounds out of training, she'd be an obvious fool to give up 24 pounds of mass to the hulking 'Cyborg,' something she simply can't afford to do:
"Why would the reigning world champion at 135 pounds move up? This is something every media member and every blogger and every forum user and every fan of MMA should consider. Ronda Rousey hasn't weighed above 151 pounds for the last four months. She hasn't weighed above 154 for the past six months. This is offseason and on season. The last two and a half weeks before this fight (against Correia), Ronda was waking up at 148 pounds. Cris 'Cyborg' recently tweeted a photo of herself jacked and ripped at 175 pounds. So we're talking about a 24-pound differential in body weight first thing in the morning – 24 pounds of body mass. Why the hell would Ronda give up that type of advantage to an athlete that's in excess of 20 pound heavier?" If you enjoyed this story, please share it on social media!