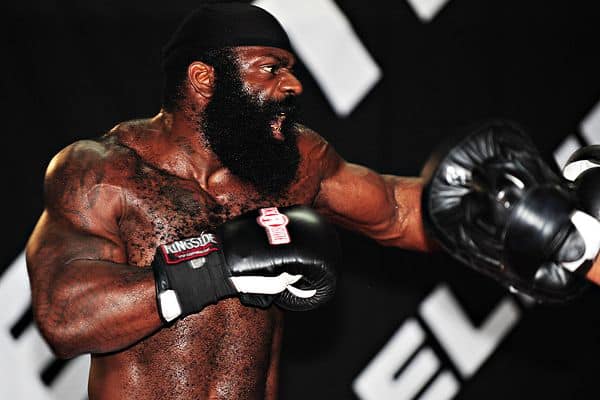 Street fighting youtube sensation-turned MMA (mixed martial arts) fighter Kimbo Slice was part of the shambles that was Bellator 138 this past Friday (June 19th, 2015) as he faced off against the crusty shell of Ken Shamrock in St Louis. The victory was essentially bitter-sweet for Kevin Ferguson (Slice), as the internet exploded with accusations of fight fixing in Bellator. The WWE style promotion employed by Scott Coker does little to help the organization's case.
With plenty of questions raised about the legitimacy of Slice vs. Shamrock, even before they had fought, it looks as though Kimbo's big five year come back has been dragged through the dirt. One man who isn't jumping on the bandwagon is former WEC (world extreme cagefighting) champion Mike Brown, who helped train and corner Slice for his landmark 'fight' with 'The World's Mouldiest Man', as told to Sherdog.com:
"I thought it was going to be tough to dig out of this one, that's nearly checkmate. You've got one opportunity to get out of there, and he found that way."
It was indeed a near-death position for the street fighter, alas he was able to shake off a black belt in BJJ and 20 year MMA veteran, with little troubles. Seems legit. Brown continued:
"I think one of his best attributes is he's a gamer, man. He shows up fight day and never says die," said Brown, who since retiring from the sport now serves as a coach at American Top Team in Coconut Creek, Fla. "He's just one of those guys that knows how to show up and fight well on fight night. Obviously he has big power in his hands, big balls and is very confident. He's coming after you, no f—ing around and trying to take you out."
Then it was turn for the bloated Asian-looking Michelin man Bellator boss Scott Coker to chime in with his two cents on Slice vs. Shamrock at Bellator 138:
"As far as I'm concerned he's back," Coker said at Saturday's post-fight press conference. "This guy can hit extremely hard and you saw some of his new techniques. He fought that rear-naked choke off and stood up and did what he was supposed to do.
"We all said, 'What if it went to the ground?' And [if] Ken could keep him down there then this might be his night, but Kimbo was able to stand up and fight off the choke. He throws bombs; the guy is a heavy puncher. That's how the fight ended."
"I haven't felt that much electricity in the room for a fight — the whole crowd was standing up — and I don't remember a fight ever where I was standing there even in Strikeforce, looking back and going, 'Man, everyone is standing up,'" Coker said. "There were so pumped up that they couldn't sit down."
In retort: to say that Kimbo is 'Back', would be to assume that he had actually gotten anywhere with his MMA career in the first place. Aside from battering custom cans in Elite XC and getting choked by Randy's gut in the UFC, Slice's martial arts achievements are really non existent. Also the fact that the crowd is more excited for a squash match between two aged hags is not something to gloat about Scott!
Mike Brown closes by saying Kimbo "If he wants to fight again I'll be there. He's got a home at ATT." And they all lived happily ever after. Or not.