Demetrious Johnson is in a bad way with the UFC at the moment.
"Mighty Mouse" comes off of his record-tying 10th consecutive UFC title defense when he submitted Wilson Reis in the third round of their meeting this past April. Johnson is now looking to break former UFC middleweight champion Anderson Silva's title defense record with one more successful flyweight title defense, and the UFC would like for that fight to be against former bantamweight champ TJ Dillashaw.
Johnson didn't seem to be too interested in the bout upon its announcement, however, as his management was in the midst of negotiations to fight No. 3-ranked Ray Borg. ""Mighty Mouse" revealed that UFC President Dana White and he conversed over the issue at last month's fighter retreat in Las Vegas.
The flyweight champ said that White told him the UFC wants to make the fight and that Dillashaw really wants it as well. White also asked Johnson why he would deny Dillashaw the opportunity, and "Mighty Mouse" was surprised that White asked to put Dillashaw above himself (quotes via MMA Fighting):
"F*ck that," Johnson said. "This isn't TJ Dillashaw's career. This is my career. This is how it's going to f*cking happen."
Johnson's team has been going back-and-forth with UFC matchmaker Mick Maynard, who stated that the UFC would consider shutting the flyweight division down if "Mighty Mouse" didn't comply to fighting Dillashaw:
"I said close the mother f*cking division then," Johnson said. "Because if somebody is willing to do that, that just shows you that they have no interest whatsoever of working with the champion. I never missed weight, always showed up on time, did all of my interviews on fight week, traveled to Australia in coach two times for the flyweight division. I've done a lot."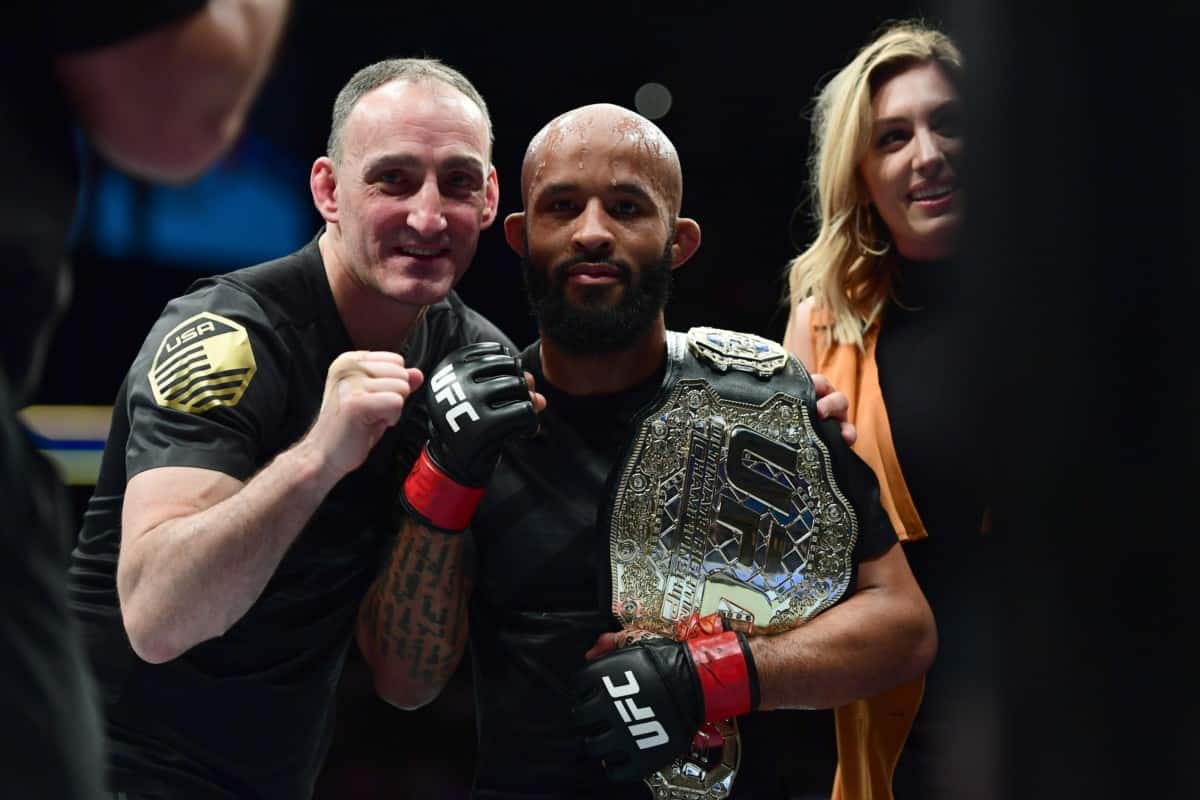 If the fight were to go down, Johnson fears that Dillashaw will miss weight, thus scrapping the stipulation that the title would be on the line. Johnson said his team asked the UFC to guarantee him his full fight purse, as well as Dillashaw's, and that the fight would be called off if that were to be the case:
"What is this?" Johnson asked. "Is this f*cking amateur hour? This is the sh*t you do at smokers and amateur shows. … This is supposed to be the pinnacle of mixed martial arts and this is what we're negotiating?"

"I respect the UFC saying, 'Hey, we're gonna close your f*cking division, take T.J. to fight,'" Johnson said. "Sounds good. Here's my stance: Go ahead and f*cking close it. Like I respect them being honest and straightforward with it. But don't expect me to be, 'OK, I'll take the TJ fight if you're gonna close my division.' No, no, no, no. That's not how it works. What have I been doing the last five years in this division? Trying to make it the best division in the world."
As for the UFC's threat to close down the 125-pound division if he refuses to fight, "Mighty Mouse" said he believes the promotions is willing to do it and has no reason not to believe them:
"I had to believe him," Johnson said. "I was standing my ground. I'm a black-and-white type of dude. If you say something, I believe you're gonna do it. When he told me that, I was like, 'Alright, if that's how you guys want to treat me and say that and close my division after I've been playing ball the whole time and defending my title, go ahead.' They showed they had no interest in having that division."
Johnson concluded by saying he doesn't know how the UFC will take his comments, but stressed that he has no beef with Dillashaw in particular and would be saying the same things if it were any other bantamweight in his position:
"I have no idea," Johnson said. "I'll tell you what's gonna happen: I'm not fighting another bantamweight. I'll tell you that."