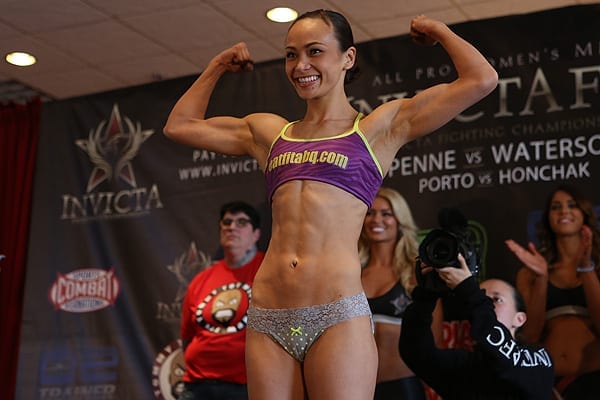 Despite losing her last Invicta FC bout via submission in late 2014, Michelle Waterson went into her Ultimate Fighting Championship (UFC) debut with high expectations. "The Karate Hottie" was able to secure a third round submission victory over Angela Magana at The Ultimate Fighter 21 Finale.
The former Invicta FC atomweight champion is now a strawweight and the ruler of this 115-pound roost is undefeated Polish sensation, Joanna Jedrzejczyk. Waterson certainly doesn't seemed fazed by the champion's dominating victories.
"The Karate Hottie" was recently interviewed by Submission Radio (via BloodyElbow.com). Despite defeating Jessica Penne in April 2013, Waterson said she wouldn't be opposed to a rematch:
"I think it's a fine match up. I have no problem fighting Jessica again. So I mean, if that's what Dana White and Sean Shelby want for me, I think it will catapult me right up to the top of the list as far as contenders for the championship. So it really is up to Dana and Sean Shelby. I end up fighting everyone in the division anyway."
As mentioned, Waterson has made the jump from 105 pounds to 115 pounds. Despite the change, she said she believes she would still reign supreme if she had a rematch with Penne:
"I think it would play out a little differently. I feel like my wrestling's a lot stronger now, and just with both of us being able to have the size difference in 105. I mean I honestly feel like it would be the same result in me wining, but I just think it would play out a little differently. Possibly more stand up."
Jedrzejczyk has been on an absolute tear in the UFC. From her second round knockout victory over Carla Esparza to capture the strawweight title, to her thrashing of Penne in her first title defense, Joanna "Champion" has lived up to the nickname. When asked if she can stand toe-to-toe with Jedrzejczyk, "The Karate Hottie" seemed very confident:
"Of course, of course I do. No question about it."
Waterson may have to wait to test her skills because Claudia Gadelha and Jessica Aguilar will throw leather at UFC 190 in what may likely be a number one contender bout.