Michael Page was supposed to fight Derek Anderson in the co-main event of Bellator 179 over the weekend. However, that bout was scrapped after Page pulled out of the fight. Even though he didn't fight at the event, Page was in attendance for the show and a target of a heated in-cage callout from Paul Daley following Daley's loss to Rory MacDonald in the main event. This led to Daley charging at Page outside of the cage, which led to a scuffle between the two fighters in the stands of London's SSE Arena.
During a recent interview with Ariel Helwani of MMA Fighting, Page said he wasn't surprised to see that type of behavior from Daley.
"I kind of expected it," Page explained on The MMA Hour. "Because I felt he went in there knowing that if he wins the fight, he would automatically call out Douglas Lima, going for the belt, and if he lost, which he did, he would call me out. So, I think that was just very tactical. But I have to say, I'm extremely disappointed, and I've lost all respect for Paul Daley. And it's not because of him calling me out. The main reason was his mom was in the crowd, distressed and angry after the incident. And obviously, knowing that your family is there, you have to be careful, you have to be professional about how you handle yourself. And I had to kind of explain and calm her down. We had a lovely conversation; although it was tense, I had to calm her down. It left her feeling a lot better afterward obviously, but I would never put my mother in that situation, having to defend my battles over something that I caused. So I have to say that I've lost a hell of a lot of respect for him."
Their rivalry dates back to last year as the two former acquaintances began taking potshots at one another through the media. Despite the bad blood, Daley stated several times that they were not on the same level and even referred to Page's the Adrien Broner to his own Floyd Mayweather. Daley went one step further by calling Page the 'Justin Bieber of MMA' after Page released an original music video calling out Daley.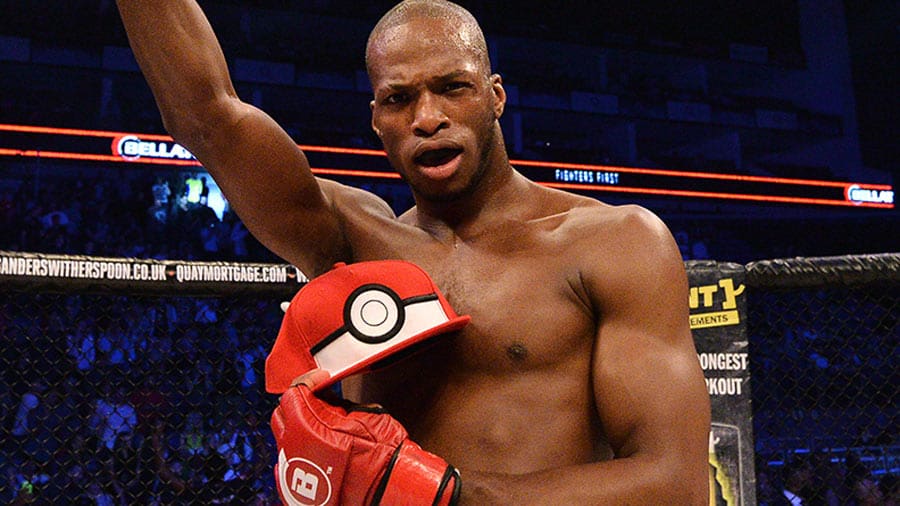 "I find it funny, because there's a time and a place for everything, and since all the hype started, we've been at a couple of events where we've been sitting across the room from each other, and this was the first time he's looked me in my eyes," Page said. "And he decides to do it then. I was a bit annoyed, but then at the same time, I found it a bit funny because, one, if he exited the cage the opposite way, within five steps he could've looked me straight in my face, and there was hardly anybody around at that side. He went out the opposite way and then decided to create a scene and charge towards me. I hadn't actually said anything to him at the time, so I would love to actually hear what triggered him to turn around and charge at me anyway. I hadn't said anything, I hadn't shouted anything, I hadn't waved at him, there was nothing. So, again, I think he's just trying to sell another fight and distract people from the whooping he actually got in the cage."
The incident somewhat overshadowed Daley performance against MacDonald, which was a one-sided loss as MacDonald submitted him. Daley said in the post-fight interview that MacDonald "played the safest way to get the win" by resorting to his wrestling.
"It was horrible," Page said. "You know when you're watching the back room when they're warming up for a fight and you have a training partner helping you out? It just felt like Paul Daley was in there as Rory MacDonald's training partner, and Rory absolutely destroyed him. Again, I find it funny that he had immediate excuses after the fight. Again, that just shows your character, because he got completely schooled in every area and his excuses were, 'oh yeah, he took the safe way out. He decided to take me down. He knew that he's better than me there.' Now, why does he know that? You're supposed to be an established MMA fighter. It shouldn't be a case of, 'yeah, he knows he can take me here and win.' You should be working on all areas of your game. So I just feel like, immediately after losing, you should have the decency to congratulate someone for that kind of performance."
Page noted that he expects to spend the next few months recovering from his knee injury but wants to get back inside the cage very soon to settle his issues with Daley. Page wants the fight to be booked as soon as it can be and promised that he would give Daley his third loss inside the Bellator cage in his hometown.
"I would love for Bellator to set up another show immediately in London, and I think I owe it to the London crowd, because my injury this time," Page said. "I would love to come back here as soon as possible. I think me and him alone would fill this place. I think the hype around this fight is going to be insane, and there's very few times you're going to see two English people doing this fighting, causing so much hype for one bout, and I think we need to get it done as soon as possible. I don't want to wait until next year. I want it done now. I want my next fight to be him. I actually guarantee, in that fight, he's going to try and take me down. I guarantee it. He was talking about Rory taking the safe option — I guarantee he tries to take me down when we fight, because he's not going to handle my striking. He's not going to handle my movement. He's not going to handle my precision. He's going to show a lot, he's a very emotional fighter as well, as that's going to drive him to make very bad mistakes in that fight."