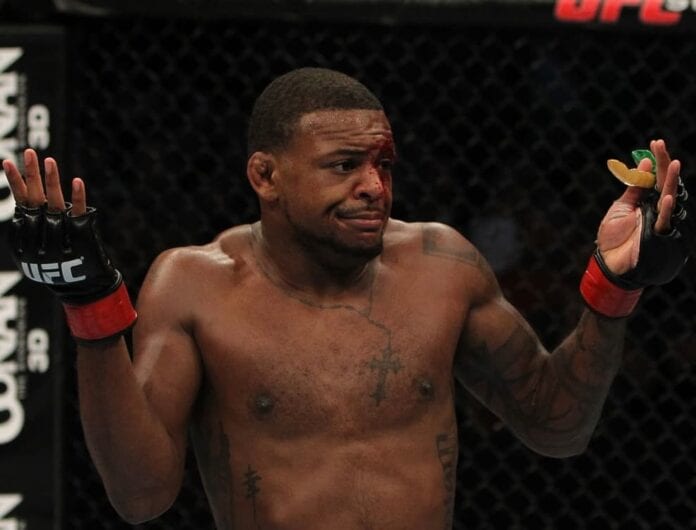 The featherweight bout between Artem Lobov and Michael Johnson in the co-main event of tonight's (Sat., October 27, 2018) UFC Fight Night 138 from the Avenir Centre in Moncton, New Brunswick, Canada, brought a solid backstory.
Not because of the bad blood between the fighters, however, but for a different reason. The bout carried some buzz because Lobov's original opponent Zubaira Tukhugov was removed from the fight. A teammate of lightweight champion Khabib Nurmagomedov, Tukhugov's UFC future remains unknown due to his part in the UFC 229 brawl.
A vast drama ensued, with Khabib saying he would leave the UFC is Tukhugov was cut. Lobov then said he would leave the UFC if he was cut, but only because he wanted the fight so bad. As for the actual fight, Johnson stepped in on short notice. He missed weight but Lobov promised to pay back his fine money.
"The Menace" recently picked up his first win at featherweight over Andre Fili. He lost three straight to Nurmagomdeov, Justin Gaethje, and Darren Elkins before that. Lobov was coming off two losses to Fili and Cub Swanson.
Round One:
Lobov came out aggressive as usual, but Johnson's reach advantage was apparent. He was also faster, yet Lobov kept the pressure high. He threw several lunging shots but Johnson seemed to always stay just out of the way.
Johnson snapped his patented left hand and worked the body. Still, Lobov stayed in Johnson's face to stop "The Menace" from unleashing any lengthy combos. Lobov appeared confident, almost cocky, as he had his hands down in close on more than one occasion. He did land his uppercut and some low kicks, but this looked like Johnson's round albeit in a close one.
Round Two:
Johnson was on the horse in the second round. His footwork was superior and he peppered Lobov with some popping shots to open a cut on the bridge of his nose. His jab was working as well. Johnson snapped an overhand counter that landed solidly. Lobov stepped in with a lead shovel hook that scored briefly.
Johnson rocked Lobov with a left hand. But "The Russian Hammer" ate the punch. He was a bit wild as he stepped in and ate more jabs. Lobov found a home for his hook. Johnson's hands were crisper it appeared. But Lobov was far from done. He kept the pressure high and stalked "The Menace." Lobov closed the round strong as the two unleashed shots at the bell. Johnson has a sizable cut over his eye. Lobov may have stolen it.
Round Three:
The final round saw Johnson land a punch and kick to start the frame. Johnson's eye appeared to be affecting. him. Still, he landed his straight left hand. Lobov threw a low kick but it appeared to hurt him more than "The Menace." Johnson stayed moving.
Lobov landed his uppercut to snap Johnson's neck back. A nice two-punch combination came from Johnson. He followed it with a stinging jab. Johnson's cardio seemed strong as he danced and threw late into the fight. Lobov had noticeably slowed. Johnson had found his groove, outlanding Lobov by a margin of three to one. Johnson dropped Lobov to one knee with a shot. "The Menace" closed the fight with a takedown to land some ground and pound on a bloodied "Russian Hammer."
Final Result: Michael Johnson def. Artem Lobov via unanimous decision (29-28, 29-28, 30-27)