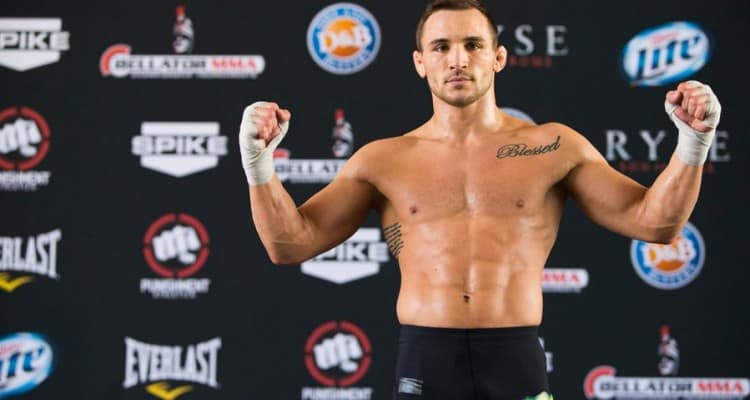 Josh Thomson is stepping back inside the cage this weekend at Bellator 172 in a lightweight bout against Patricky "Pitbull" Freire, which will be a tough task for him. However, it seems that he is more focused on Bellator MMA lightweight champion Michael Chandler. Thomson has confidence rolling into this fight as he told MMA Junkie that he hates to say it, but he is the big man on campus when it comes to this weekend's show.
Thomson claims he's in no great hurry to take a title fight if he beats Freire at the event.
"I just feel that, with Chandler, he needs to have a little more self-respect for the title," Thomson said. "You worked hard for it, you earned it, you are the champion – stop calling people out, dude. Don't worry, the cream will rise to the top, and I'll get you when it's your turn. I'll fight him when I want to fight him. I know he's the champion, but whenever I decide I want to fight him, I'll fight him. He had his opportunity to fight me this fight, on the biggest fight in Bellator history, and he turned it down. So whenever the opportunity comes up again, I'll see if I can pencil you in."
For Chandler, the feeling is mutual. He claims that Thomson turned down a title offer for March or April, which would be in the timeframe that he could prepare for the fight as he is currently coming off a 90-day suspension from his previous bout with ex-UFC champ Benson Henderson. Chandler doesn't think Thomson will show up to fight after an injury scrapped a planned their original meeting at Bellator 154.
"I already gave him the opportunity," Chandler countered on Thomson's fight-dodging claim. "I was going to come into his hometown in front of his hometown crowd. I was going to give him that courtesy. Then, he pulled out of the fight, cost me a lot of money, cost me two months with my wife, and cost me a vacation to Costa Rica. So, no, I was not going to fight him in February, and I had a mandatory suspension. I did not turn down the fight. I simply made my demand that I wasn't cleared, I needed to heal up from injuries sustained (against Henderson), and the last place I'm going to fight if I'm going to fight him is San Jose, because I already gave him the opportunity once."
Chandler said he's looking for a different opponent to fight because Thomson "might sign a bout agreement, but he will not actually fight me."
Bellator 172 takes place on Saturday, February 18, 2017 at the SAP Center in San Jose, California. The main card airs at 9:00 pm EST on Spike TV.