UFC middleweight champion Michael 'The Count' Bisping is all set to make his first career UFC title defense when he steps into the Octagon against longtime rival Dan Henderson in the main event of UFC 204.
While Bisping is ready to go to war later this month, former 170-pound champ Georges St-Pierre is inching closer and closer to making his highly-anticipated return to Octagon action. 'GSP' named Bisping and his new welterweight strap as a possible target upon his return, and 'The Count' is more than willing to go toe-to-toe with the Canadian phenom for his crown:
""If GSP wants to come out of retirement," Bisping recently said (courtesy of MMA Fighting), "if he's finally grown a set of balls to become a fighter again, (I could) beat Anderson Silva, beat Dan Henderson, beat Luke Rockhold, beat GSP? Yeah, why not. Of course."
Before he even thinks about defending his title against St-Pierre, however, Bisping must first get past the man that viciously put his lights out in their initial meeting at UFC 100 with a scorching right hand in the second round.
Looking back on the bout just seven years later, Bisping admits the performance was not the best of his career but takes nothing away from Henderson's victory that night, and is looking forward for his shot at redemption:
"In that fight, I was very skittish," Bisping said. "I was. I wasn't committing, I was on the back foot constantly. It was just a bad performance and a bad gameplan. I was over-trained. Listen, I'm not trying to discredit him.
God bless him, good for him, he got me. He got me good. What can you say? It's part of history, I'm not bitter about it. It is what it is. This is a tough sport that we're in. He got me good. And I get a chance for revenge."
After the knockout Bisping was clearly knocked out, but that didn't stop Henderson from following up his knockout left hook with an unforgiving flying elbow for good measure.
Bisping, however, holds no animosity against 'Hendo' for his followup blow, but vows that this time out the former Pride champ won't be landing 'sh*t' in their clash in Manchester:
"Listen, in this sport, you keep going until the referee drags you off," Bisping said. "I have no problem with it. It is was it is. We signed up for this business, I got knocked out, he followed it up. Good well done.
We can sit and we can ponder as to whether he'll do it a second time — it ain't going to happen a second time. He ain't going to land sh*t. I'm going to be all over the place, too fast, pick him apart, finish him in the later rounds."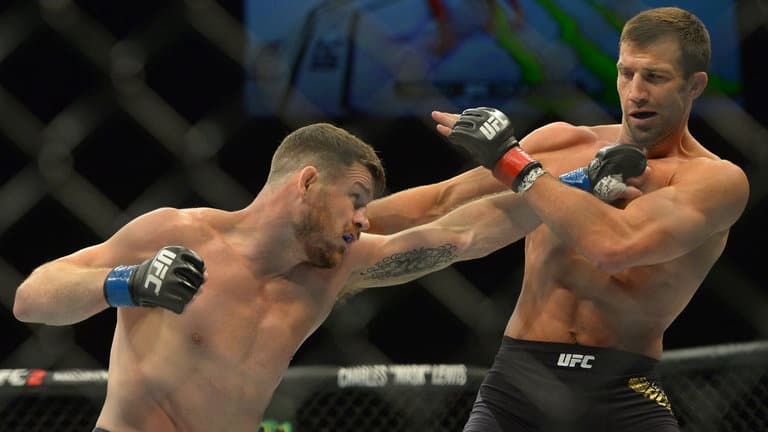 After serving ten years in the grueling and unforgiving sport of mixed martial arts (MMA) under the UFC's banner, Bisping has finally reached the top of the mountain after having defeated Luke Rockhold at UFC 199 to win his first ever world title.
Now heading into his first ever title defense against Henderson, Bisping realizes he has a lot to lose this time around, but won't let that stop him from doing what he has to do to get the win:
"Of course, there's a lot to lose," Bisping said. "I'm very proud to be the world champion. I plan on hanging onto this for a long, long time. Me and Dan have history, there's a story there, a lot of people want to see it.
The reaction to the fight when it was teased on social media was very big, so I get a chance for revenge. I get to get that one back off Dan, and if I lose, yeah, of course, come on, it doesn't matter who it is. If I lose, I lose the belt. Simple as that, so that's not good.
"So regardless of the opponent, I've got to win this fight."
Bisping and Henderson will meet in the main event of UFC 204 live on pay-per-view (PPV), from the Manchester Arena in Manchester, England on October 8, 2016.