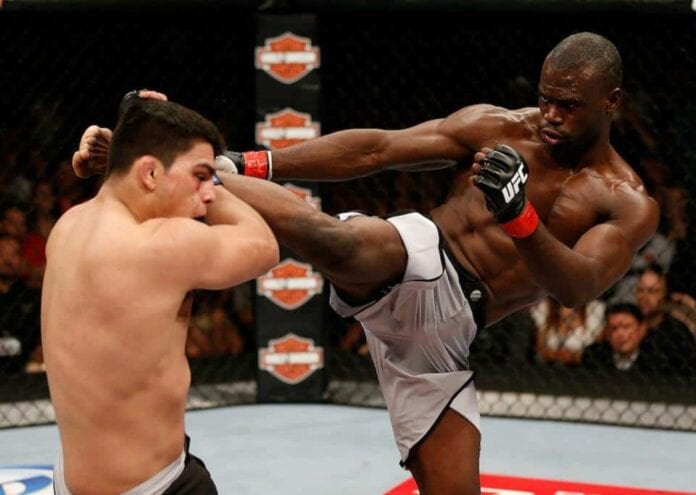 Longtime middleweight veteran Michael 'The Count' Bisping was looking to score his third consecutive victory of 2015 against rising prospect Robert Whittaker at November's UFC 193 from 70,000-seat Etihad Stadium in Melbourne, Australia, but unfortunately that opportunity will have to wait for the time being.
As co-host of UFC Tonight, Bisping opened this evening's (Wed., September 30, 2015) show by revealing that he was forced out of the bout with a minor elbow surgery.
Originally viewed as a bit of a surprise booking considering Bisping has largely faced highly ranked competition throughout his UFC tenure, his bout with the No. 14-ranked Whittaker could have been a sort of lose-lose proposition for the brash striker from Cyprus.
Whittaker was headed for his biggest test ever near his backyard of Auckland New Zealand, after two straight finish wins in his only two fights at 185. The Ultimate Fighter (TUF): "The Smashes" winner has looked absolutely lethal after giving up the cut to welterweight, and could have presented a dangerous but lesser-known challenge for Bisping.
But with 'The Count' rumored to be taking on the legendary Anderson Silva when he returns from his suspension next April, a much bigger opportunity obviously opened up for Bisping, so even if he does need elbow surgery, it would have been wise for him to sit this one out and risk potentially losing to a dangerous up-and-coming contender like Whittaker.
He's always been rumored to be taking on 'The Spider' at several points in his career but could never get over the top so to speak, so perhaps it's best to just let him heal up and return for the bout that perhaps he deserves after so many years of loyal service to the UFC.
Update
Uriah Hall has been confirmed as Michael Bisping's UFC 193 replacement, he'll take on Robert Whittaker as confirmed by News.com.au. Hall most recently fought at UFC Fight Night 75, where he decimated Gegard Mousasi by TKO after taking the fight on just two weeks notice.