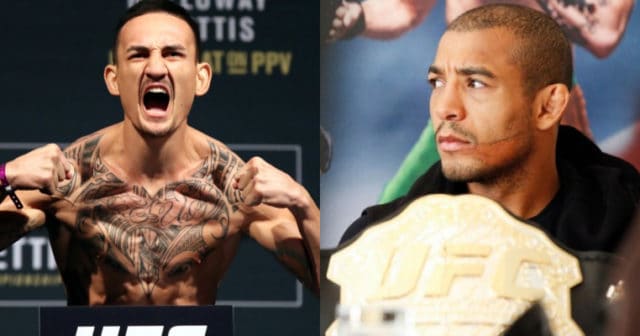 Interim UFC featherweight champion Max Holloway doesn't seem to be the biggest fan of undisputed 145-pound titleholder Jose Aldo.
After extending his winning streak to an incredible 10 straight and winning the interim strap with a dominant performance over Anthony Pettis at last months's UFC 206, Holloway called out Aldo, who expected the fight to take place at UFC 208 in Brooklyn in February. Holloway, however, suffered an ankle injury and is unable to fight again next month.
With that being said, there were rumors of Aldo moving up in weight to accept an interim lightweight title bout. If "Scarface" isn't available when Holloway plans to return in May, the Hawaiian is willing to defend his interim title:
"I'm not going to wait around," Holloway told MMAjunkie Radio. "I'll defend the interim title 10 times if I have to."
If he were to defend his title, Holloway said he would be interested in facing off with former lightweight boss Frankie Edgar and cleaning out the division:
"I want to fight Edgar," he said. "I'd love to fight Edgar. I'd take that fight in a heartbeat. Former champion, back on his win streak, he fought Aldo, and if I can do my thing and win the fight convincingly, (I will) prove to people (I deserve the belt). I'm not trying to race through the division; I'm trying to clean out the division."
"Blessed" then said that he's been calling out the division's top names for years without much success. Now, however, he implied that he will he get his wish:
"I've been calling out Chad Mendes, Jose Aldo, Frankie Edgar forever," he said. "I've been calling out the top-five guys every damn time. We just wasn't getting a fight. Now it's here, and I want them even more. The storyline is even better."
At the end of the day, it's likely that Holloway and Aldo will face off in a title unifier later this year and he invited the Brazilian's fans to come over to his side:
"Brazil deserves better," Holloway said. "Get off the Aldo train. Waldo's train? Where is the train? My train is easy to find. Come on over."
Would you like to see these two featherweight titans square off?
If you enjoyed this story, please share it on social media!