Because, hey, it's better to look like a homeless guy than wear Nike, right?
Along with pretty much everybody else in the MMA world right now, UFC heavyweight and Fight Night Boston main card face Matt Mitrione is none too impressed with the Reebok deal. He was among a number of 265-pounders that originally spoke out about losing large sums of sponsorship money due to the partnership the fighters had absolutely no say in, and this was before the UFC started enforcing penalties in line with the Reebok contract.
Recently we heard about Rafael dos Anjos and Donald Cerrone both eating ,000 fines for uniform policy breaches during their UFC Orlando lightweight title clash. Nate Diaz was also fined, and he claims the item of clothing they docked him for were actually Reebok jeans.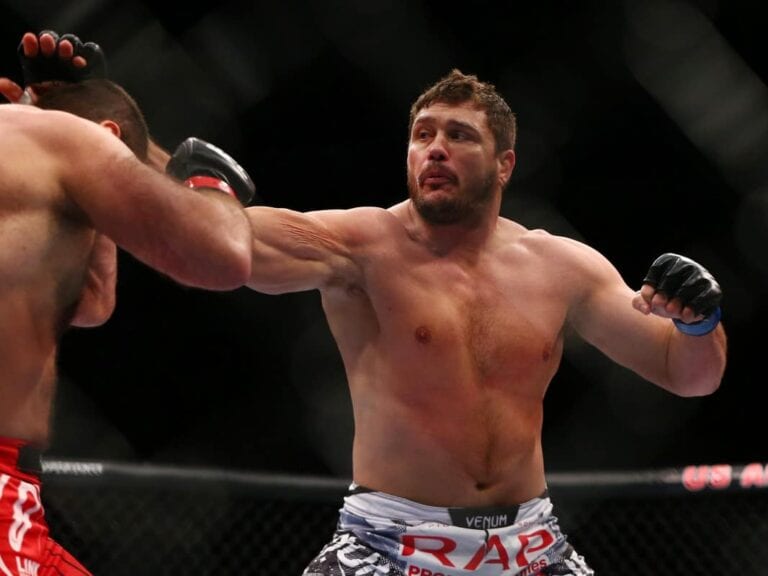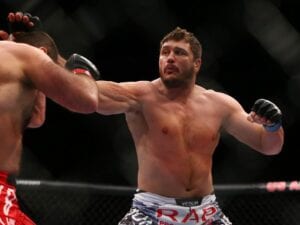 So back to 'Meathead,' he faces fellow hard hitting heavyweight Travis Browne at this Sunday's (January 16, 2016) UFC Fight Night 81 event. Showing up for his press obligations, and ironically to detail why he hasn't attempted to get a new contract with the UFC, the ex football player can be seen without shoes as he wasn't wearing the mandatory Reebok kicks.
Wonders will never cease.

So Mitrione will be testing the waters of free agency after his contract is played out, and who can blame him? It took him so long to finally get a fight in the UFC octagon, whereas more clearly marketable fighter like Sage Northcutt are getting three fights in six months.
When you consider the uniform policy in this case, it's getting to a point beyond stupid now. Forcing an athlete to do a press conference without any shoes on? Yeah, that's much more professional looking than just letting the guy wear his own footwear. I'm sure their would have been outrage from onlookers if 'Meathead' didn't fit in with the rest of the power rangers.