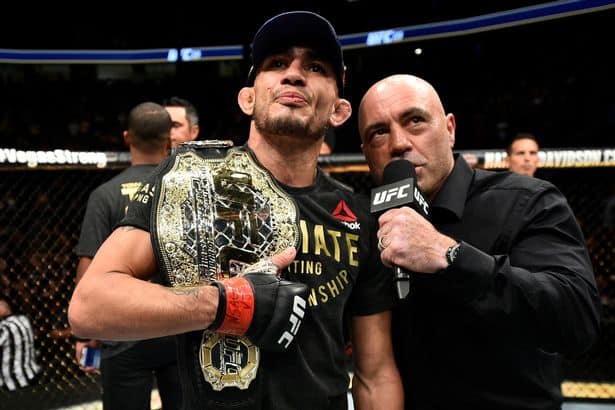 Tony Ferguson may never fight again after his upcoming lightweight title fight at UFC 223 against undefeated Dagestani Khabib Nurmagomedov, at least according to Nurmagomedov's manager Ali Abdel-Aziz.
Abdel-Aziz clearly has a bias towards his own fighter but did explain his reasoning: Ferguson is the only opponent to have actually made Nurmagomedov mad. While past foes had shown respect and received mercy in return, he detailed that "El Cucuy" has not (MMA Fighting):
"I feel sorry for Tony Ferguson, because on April 7, Tony Ferguson is probably never gonna fight again. I'm concerned for his well-being, I'm serious. I'm not just saying that to promote a fight. I'm concerned for him. I'm hearing some reports — and I respect Eddie Bravo, he's a legend — I'm hearing that he'd accept, he'd be more than happy for Khabib to take him down. And I'll tell you something … he's not gonna be a normal human being. He'll be in trouble. Because if he accepts takedown from Khabib and he will take him down, he will disfigure his whole entire face."
Abdel-Aziz mentioned Khabib's fights with Edson Barboza and Michael Johnson as examples of opponents who essentially didn't piss off Nurmagomedov, and were treated accordingly:
"Khabib was very nice to Barboza, he was very nice to Michael Johnson. But I'm telling you something. One thing that Khabib is not gonna do, he's not gonna be nice to Tony Ferguson. My prediction: Tony Ferguson will probably need to take two years off or maybe not come back after this fight."
Ferguson has never shied away from causing controversy or getting confrontational, to the point where Nurmagomedov won't hold back if he gets the interim champ on the ground where he does his most brutal work. And with UFC gold on the line, something Nurmagomedov has been demanding for ages, the stakes are that much higher.
Do you agree with Khabib's manager that Ferguson's antics have angered Nurmagomedov so much that the Dagestani will show no mercy? Will Ferguson fight again in the event he is brutalized by Nurmagomedov as Abdel-Aziz suggests?
UFC 223 takes place on April 7 in Brooklyn, New York.