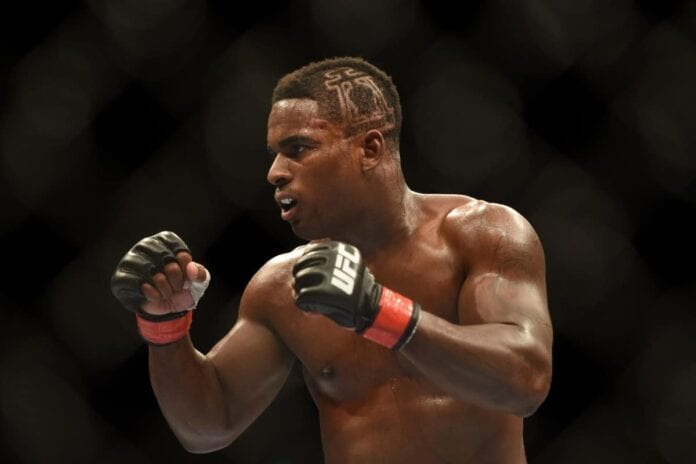 Dangerous welterweight strikers Jorge Masvidal and Lorenz Larkin clashed on the main card of tonight's (Sun., May 29, 2016) UFC Fight Night 88 from the Mandalay Bay Events Center in Las Vegas, Nevada.
Longtime veteran Masvidal had lost two of his last three but had won four of his last six, while his former Strikeforce roster mate Larkin needed a win after losing a close split decision to Albert Tumenov in his last fight.
The fight kicked off with a brief exchange in the center of the octagon, and Larkin scored a few light strikes shortly thereafter. "Monsoon" snapped low kicks, bruising Masvidal's leg early on. A hard body kick was followed with a low kick, and Masvidal was putting out precious little volume in return. Larkin came over the top with an overhand right and a stiff jab, but Masvidal finally cam alive with a spinning back kick and some hard shots.
A clinch was ended by a quick Masvidal combination, and Larkin pressed forward with some heavy shots. A vicious eye poke on Masvidal unfortunately caused a halt in the action, with "Gamebred" falling to the mat in obvious pain. The fight started back up and Masvidal snapped a hard leg kick to end the first round.
Larkin came out strong with kicks in the second, landing low kicks before a huge jumping switch kick that got a huge reaction from the crowd. Larkin landed a hard right hand and a step-in elbow as his striking opened up. Masvidal landed two counter rights as Larkin clinched him on the cage wall. "Gamebred" scored with an elbow and knee before reversing position and breaking the clinch. A combo followed before Larkin landed a few strikes of his own. A grinding clinch lea into a big right hand from Larkin. Masvidal scored with a hard body kick but Larkin countered, sealing a pivotal round-ending takedown at the bell.
The third round saw a stiff right and a low kick from Masvidal, and Larkin landed a huge body kick. A solid exchange saw a straight right from Masvidal bloody Larkin with a right hand, and Larkin went for another takedown on the fence. But Masvidal went for a standing guillotine, and Larkin broke out to land a big shot. Masvidal fought back with his own as it became a slugfest, and Masvidal again attempted a guillotine. "Gamebred" went for a deep takedown and briefly got it. A break saw Larkin score a big uppercut, and another kick. Masvidal landed elbows from the clinch, and the grueling bout ended in the clinch.
After three full rounds, Larkin took home the close bout by split decision.
Final Result: Lorenz Larkin def. JorgeMasvidal via split decision (29-28, 28-29, 29-28)