King Mo on Jon Jones' Betrayal of Rashad Evans: 'That's a Ho Move'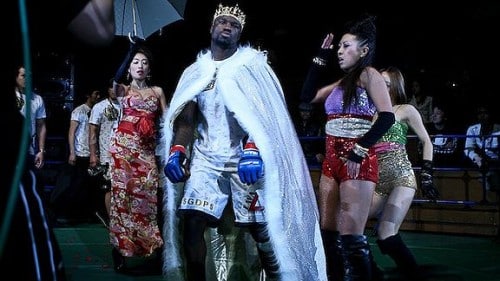 Uh-oh, we bet somebody is going to get their Twitter in a bunch over this: Former Strikeforce light heavyweight champion Muhammed "King Mo" Lawal spoke with Five Knuckles over the weekend, breaking down the current Jon Jones-Rashad Evans beef with the kind of simple analogy any pimp could understand. Lawal said that in going back on his original oath never to fight a friend and training partner, Jones displayed the personality traits of a common street prostitute and now "Bones" – ahem – should be treated like one.
"I think it broadsided (Evans), because they both made an agreement (not to fight) and all of a sudden someone reneges," Lawal said. "I would never fight Daniel (Cormier) definitely, and he would never fight me. Then all of a sudden if he went behind my back and said, 'I'll fight Mo on TV' … that's a ho move and a ho move deserves an ass whipping. I know none of my training partners that are my brothers would ever pull a ho move like that. If I say I ain't going to fight my brother, I ain't going to fight my brother."
Full disclosure here, Lawal and Evans are known to be tight, so Lawal's opinion is not necessarily unexpected. In fact, perhaps the only mildly surprising thing here is that the 7-1 former champ (who just spent the last eight months recovering from substantial knee surgery) would come out of the gate upon his return comparing the current No. 1-ranked fighter in his weight class to someone who trades sex for money. For his part, Lawal said he'd rather quit MMA and turn to professional wrestling than fight someone from inside his camp.
"I got brothers who I train with (and) I won't fight my training brothers," Lawal said. "They can fire me and I will go to the WWE, I don't care. Rashad is a brother to me, why fight him if there are other options?"
Now that Strikeforce and the UFC are all one big, happy (and dysfunctional) family, King Mo said he expects "some cross promotion, some AFC vs. NFC type stuff" to happen sooner than later. Though he is already rumored to be taking on Roger Gracie in his SF return, Five Knuckles was kind enough to suggest Quinton "Rampage" Jackson as a first UFC opponent for Lawal, noting that the two have had words in the past and making the somewhat debatable claim that fans would "salivate" to see the up-and-coming star fight the over-the-hill former champion. Lawal? Doesn't sound like he thinks it'd be much of a fight …
"I'll beat Rampage," he said. "What is he going to do? Stop my takedowns? Especially now that my knee is good. C'mon. Is he going to hit me with a big shot? As much as I like Rampage, I respect him, I saw him in Japan with his family. I respect him, he's a nice guy, but you know what? I'd like to fight him and get it out the way. There's too much money to be made. We could make this fight happen and then we could squash beef or keep not liking each other. But I know this, I saw him in Japan and I have more respect for him now, but I'd love to fight him. Get me up in there with him."
And in case you were wondering, Lawal is pretty sure he could take out Jones, too …
"Without a doubt I can beat Jon Jones," he said. "I know I can beat Jon Jones. He's a good fighter, but all it takes is a good game plan, a good camp and I know I would win. My brother Rashad got the tools to beat him too. Rashad's going to beat him."