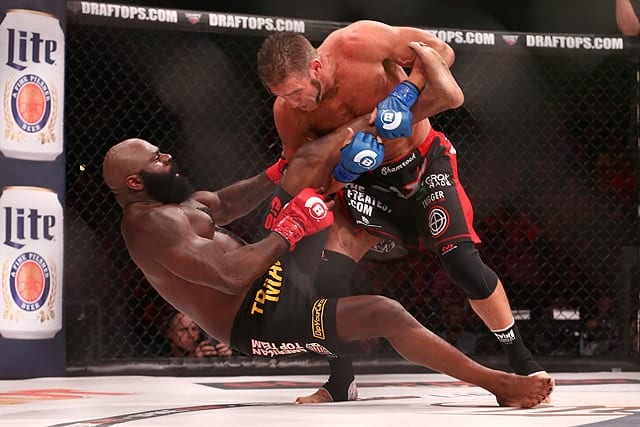 Kimbo Slice and Ken Shamrock both failed drug tests for anabolic steroids at Bellator 149, according to a report from MMA Fighting.
Slice fought Dada 5000 in the co-main event while Shamrock fought Royce Gracie in the main event.
Slice tested positive for the steroid nandrolone and also had an elevated testosterone-to-epitestosterone ratio. Shamrock, on the other hand, had an elevated testosterone-to-epitestosterone ratio.
Texas Department of Licensing and Regulation have yet to hand out punishments but are expected to. The maximum discipline is a 90-day suspension and $5,000 fine in Texas, but there have been reports that Slice and Shamrock will both be suspended for one year.
Bellator 149 took place on February 19, 2016, at the Toyota Center in Houston, Texas. The event aired live in primetime on Spike TV while the prelims aired live on Spike.com.
The event averaged 1.964M viewers, which shattered the old record held by Bellator 138 with 1.58M. Slice vs. Dada 5000 peaked with 2.5 million viewers.