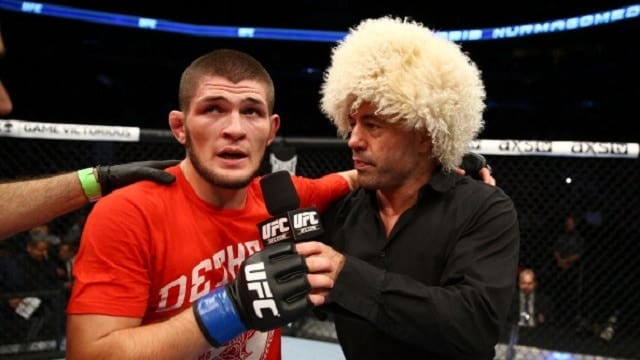 Touted UFC lightweight Khabib Nurmagomedov finally answered the questions about his health by thoroughly destroying top striker Edson Barboza (full highlights here) in the co-main event of last night's (Sat., December 30, 2017) UFC 219 from Las Vegas.
It a refreshing site to see for many MMA fans, as the uncrowned champion at 155 pounds had seen much of the previous three years dissipate due to a long streak of unfortunate injuries followed by a botched weight cut heading into his interim title bout with Tony Ferguson at March's UFC 209.
After the bout, "The Eagle" proclaimed he would fight both Ferguson and official champion Conor McGregor on the same night if the UFC allowed, something that obviously won't be coming true. So in terms of actually possible goals, Nurmagomedov offered a detailed plan about how he's going to make up for time lost. With his weight cutting issues supposedly a thing of the past, Khabib said he's now the healthiest he's ever been, and that has him prepared to fight three times next year:
"I never have problem with weight cut," Nurmagomedov said. "My problem, my number one enemy is injuries because I train so hard. I'm not training like other UFC fighters. I'm training so hard and my training partners know, my close people know about this, and the last couple of years I tried to change something and I think I do this very well and I changed a lot of things, but I never have problem with weight cut. Now I'm healthy. For this camp, I'm in my healthiest period ever, like everywhere I'm healthy, inside, outside, knees, back, everything is healthy and when I begin this training camp I feel good and this is why I make weight.

"When I'm healthy, I always make weight, but now I hope next year I'm gonna stay busy, stay healthy, no injuries, and I want to fight April, May, before Ramadan. After, I want to fight September and I want to fight December. This is my plan. I want to fight in 2018, three times."
After having competed only three times since defeating Rafael dos Anjos in April 2014, fighting three times in one calendar seems quite ambitious based on the injury rate at his American Kickboxing Academy gym.
But Khabib is healthy now, and that's all we can go off of. He also looks more dominant and smothering than ever, prompting talk that he may be the most fearsome 155-pound fighter in MMA despite two champions technically being ranked above him.
Do you believe he will easily top McGregor and/or Ferguson? Will he actually be healthy enough to fight either one of them?