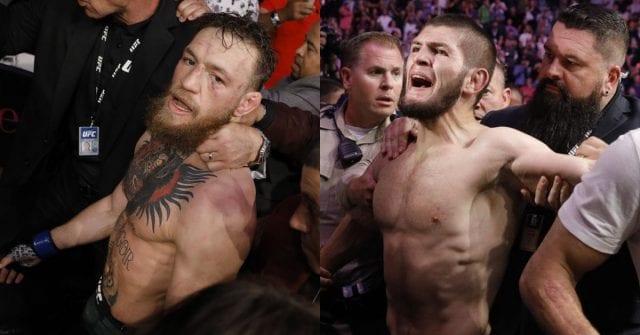 Khabib Nurmagomedov reacts to Conor McGregor announcing his 'retirement' from MMA competition.
Many people believe this is all a negotiation tactic by the former UFC lightweight and featherweight champion. UFC President Dana White seems to have taken the bait.
For the UFC lightweight champion, he kept his reaction to this news short and sweet when taking to his official Twitter account. He wrote the following:
In the lead-up to the UFC 229 pay-per-view, McGregor made some harsh comments about Khabib's family, religion, and character. This likely played a huge role in the brawl that spilled out after the conclusion of their bout in Las Vegas. Both fighters were suspended and fined for this chaotic scene.
Khabib defeated the Irishman via fourth-round submission by way of neck crank back in October. This fight marked McGregor's latest bout to take place inside of the Octagon.
Since then, he's been tied to several other fights but had been most interested in a rematch against Khabib. Time will tell whether this is McGregor's actual retirement and if not, how long he sticks to this tactic in order to get what he wants that allows him to fight again. If you enjoyed this story, please share it on social media!