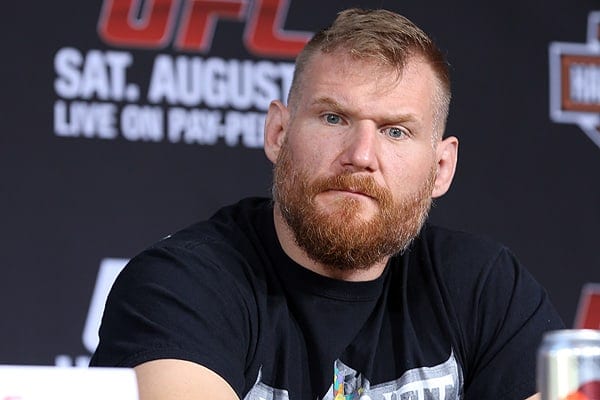 A heavyweight slug fest is set for this weekend from Japan, as former The Ultimate Fighter winner Roy "Big Country" Nelson takes on former UFC heavyweight champion Josh Barnett in the main event of UFC Fight Night 75.
At age 37, "The Warmaster" hasn't competed in around two years since he was brutally finished by Travis Browne at UFC 168, but he claims that his career is far from over. To show this, Barnett is aiming to not only finish Nelson, but to finish him quickly:
"I need to go out there and show that the shell of me that didn't even show up to fight the last time, that's not indicative of who I am," Barnett told FOX Sports recently.
 "I'm not anywhere near the end of my career. Roy Nelson and I, on paper, could look like one thing to a group of folks but I want to go out there and show who I am as a fighter. By going out there and not just beating Roy but taking Roy out and taking him out quickly."
Nelson, although, struggling as of late, is one of the most durable, and heavy handed fighters in the heavyweight division, and Barnett knows this, noting the pure power of Nelson's right hand:
"He's scored a lot of knockouts, he's put away a lot of guys who have wins over me," Barnett said. "I know Roy isn't going to oblige in any way shape or form. The more you go out there and you hit Roy and you try to beat Roy's brains in, he's going to come back, drop his body weight and try to land that big overhand right."
Known for his vicious, and ruthless style, Barnett claims that he needs to use his fight IQ in this bout, also saying that even on his best day, Nelson can't beat him:
"I try to fight with a very high IQ. I can say all this and I can be as confident as I want to be, but whatever happens, I just want the best Roy Nelson to show up so I can go out there and beat him at his best," Barnett said. "On his best day he's not taking me out."
While both men may be ageing veterans, and both may not be closing in on a title shot, this fight could produce some fireworks, and that could be because both men are on the hunt for the finish:
"I don't go out there to see a fight until the end. I go into the ring to finish," Barnett said. "I know Roy does, too. If there's one thing I can appreciate about Roy it's that if he's down to scrap, he gets in there and means it."

Who will walk away victorious this weekend?