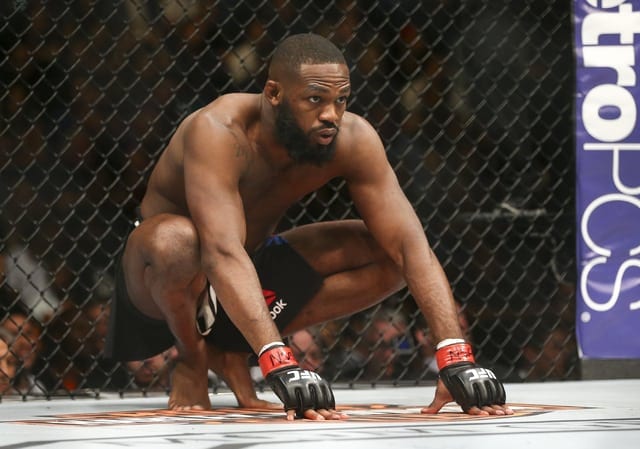 Earlier today (May 12, 2017) at the UFC's Summer Kickoff Press Conference, it was officially announced that light heavyweight champion Daniel Cormier and former titleholder Jon Jones will finally rematch at July 29's UFC 214 from Anaheim, California.
It didn't take long for the two to start trading verbal blows, as Jones quickly said that Cormier wouldn't be the true champion until he beats him:
"F*ck no," Jones said. "He never beat me. He never beat me, so the belt that he has over there, it's an imaginary belt. I messed up outside of the Octagon and I got that taken away from me, but the guy's never beaten me. In order to be the champion, you have to beat the champion. He can fight all the other light heavyweights that he wants, he can beat every light heavyweight — until he beats me, that belt over there is a piece of sh*t."
Cormier then responded by taking a jab at Jones' previous issues outside of the cage, highlighting his positive drug test for cocaine metabolites surrounding UFC 182, which is when the pair first fought:
"So, I'm sitting here, and I see him. Like, I see him. He's over there. But is he really going to be in Anaheim?" Cormier said. "Is this guy really going to go to the fight? Is this guy going to mess this up again by doing steroids or snorting cocaine or sandblasting prostitutes. What's this guy going to do to mess this up this time?"
Jones, however, was quick to remind Cormier that he beat him 'after a weekend of cocaine', as he did indeed scored a unanimous decision victory over "DC" in their first meeting:
"Prostitutes? I beat you after a weekend of cocaine," Jones shot back.

"I had two great weekends," answered Jones. "Back-to-back weekends. Cocaine one, your ass the next. It was great. That's a month for the ages."
Who do you expect to walk away from UFC 214 wearing 205-pound gold?