Jon Jones and Daniel Cormier continue to let the verbal shots fly ahead of their meeting at UFC 214 in Anaheim, California this July.
Cormier will attempt to make his third light heavyweight title defense against "Bones", who will return to Octagon action just in time as he is set to come off a United States Anti-Doping Agency (USADA) suspension which stems to a failed drug test prior to UFC 200. Jones and Cormier were initially scheduled to rematch at last summer's event, however, Jones was flagged days out from the event and was removed.
It was announced during the UFC's Summer Kickoff press conference last week that the hated rivals will finally get their opportunity to settle their differences once and for all. Jones recent joined UFC Tonight to discuss his upcoming bout with Cormier, and stated that although he may not be champ anymore, "DC" still wants what Jones has (quotes via FOX Sports):
"Daniel's a guy, he wants what I have and I know that sounds weird cause he has the belt, but he wants what I have," Jones said. "He wants to be known as the guy and he's simply not no matter what he tries to tell himself. I can only imagine being in his position. He lost to me and I'm sure he's a prideful guy, I know he's a prideful guy and he considers himself a champion but the truth is you're not a champion.

"You never won the NCAA's. You never won at the Olympics. You never won the UFC light heavyweight championship and Strikeforce, I mean who can't win that belt?"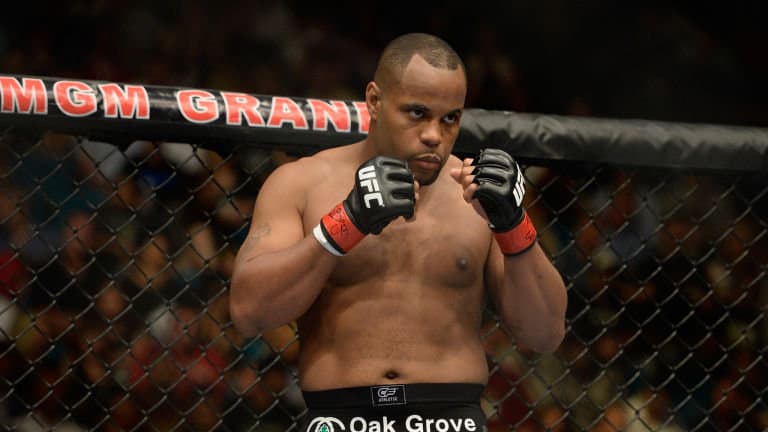 Cormier immediately responded by stating that while he may have never won any of the prestigious tournaments he competed in, he at least got the opportunity to experience them – unlike Jones:
"He talks about I'm not the man. I didn't win the NCAA tournament, I didn't win the Olympics. I went to the NCAA tournament. I went to the Olympics. All these things he wished to have done in his life, I actually did and got to experience," Cormier said. "When he talks about I want what he has, I believe his life would be good if it was the way that I did. Going to college, finishing school, having all these other things that I have accomplished. That's your issue Jon Jones. You want what I got.

"July 29, you get to try to take it back. It ain't happening. It's not happening. I will beat Jon Jones down in Anaheim."
In what may be quite possibly the most long-winded trash talk battle in UFC history, the smack talk continues between the two top light heavyweights in the world, and will do so until lte July 29 – if the fight even happens.
It's been scheduled many times before, of course, and Jones is still yet to be cleared from his suspension, after all. The fight will almost certainly be one of the top drawing events of 2017, but fans will understandably be cautiously optimistic about the bout until the cage door is shut.